By Nathaniel Herz
For two days before this year's Holmenkollen cross-country ski races, Espen Garder took his remote meetings from a heated tent in the forest. Breaks came only for lunch and battery charging at a restaurant up the hill.
Garder, 53, had arrived early to claim a spot, not just for himself but also for the dozen Boy Scouts he leads. They would join him for the weekend, eager to sleep in the subfreezing temperatures along the 5-mile racing loop.
Thousands more fans, no less excitable, would take day trips on Oslo's metro system to pack Holmenkollen's ski area for one of the world's most improbable winter sports festivals, capped by a weekend of cheering, drinking and mania for cross-country skiing, which in Norway is something like a religion.
To picture the festival's scale, and its vibe, think Scandinavian Super Bowl crossed with New York City Marathon: urban, Olympic-level competition, with spectators in wool sweaters and suspenders, campfires grilling hot dogs and enough beer and liquor for a small army.
Fans bring along a walking moonshine distillery that could be transported in a backpack in Oslo, Norway on March 11, 2023. Holmenkollen celebrates cross-country skiing and other winter sports in a nation that reveres them. Even the competitors admit the fun is infectious. (David B. Torch/The New York Times)
Andrew Musgrave, a British cross-country skier who lives and trains in Norway, described it this way: "It's like a bunch of Vikings going out and getting smashed in the woods and cheering on some people floating around on planks."
Two 50-kilometer ski marathons — one for men and this year, for the first time, one for women — are the heart of the 10-day festival, which also includes biathlon and ski jumping competitions, plus a relay race for younger athletes. Outside the ropes, there's something for everyone else: a massive, trail-side party for college students and recent graduates; a family area for quieter camping; a box for the royal family; and for fans focused on athletic performance, a grandstand in Holmenkollen's ski stadium.
At their core, the cross-country events are celebrations of Norwegian values: hard work, persistence and tradition, according to Thor Gotaas, a folklorist whose 22 books on skiing have made him a minor Norwegian celebrity.
"It reflects the spirit of the people that survived in this country," Gotaas said in an interview at his home in Oslo, two leisurely hours interrupted only by his occasionally feeding fresh logs into a roaring fire in his wood stove. A 50-kilometer race — just over 31 miles — requires more than technical skill, he said. "You have to be stubborn."
The royal balcony at Holmenkollen, which has an ideal view of the ski jump, in Oslo, Norway on March 12, 2023. Holmenkollen celebrates cross-country skiing and other winter sports in a nation that reveres them. Even the competitors admit the fun is infectious. (David B. Torch/The New York Times)
The most recent change at Holmenkollen is one that many said was overdue: This year was the first in which women raced the full 50-kilometer distance, up from the 19 miles, or 30 kilometers, they had skied for decades.
The extended women's event came amid a broader debate about equalizing distances in cross-country skiing, where men still race twice as far as women in some Olympic and world championship events. The discourse has revealed a surprising level of resistance among female European skiers, some of whom have said they fear audiences will tune out if their races take too long. Other top competitors were happy to ski the extra miles. In the debut race, the Norwegians Ragnhild Gloersen Haga and Astrid Oyre Slind took the top two places.
Slind, a distance specialist, was skiing her third long race in just over a week. After a 30-kilometer competition in Slovenia the previous Saturday, she had hopped on a sponsor's plane to Sweden, slept three hours and placed fifth out of more than 2,000 women in a 55-mile race there.
"It's not a big thing," she said. "I'm kind of used to it."
American Jessie Diggins, a three-time Olympic medalist, placed third after battling muscle cramps for half the race. She was part of a community of U.S. athletes and coaches that led a campaign to equalize distances in Oslo and elsewhere on the international circuit.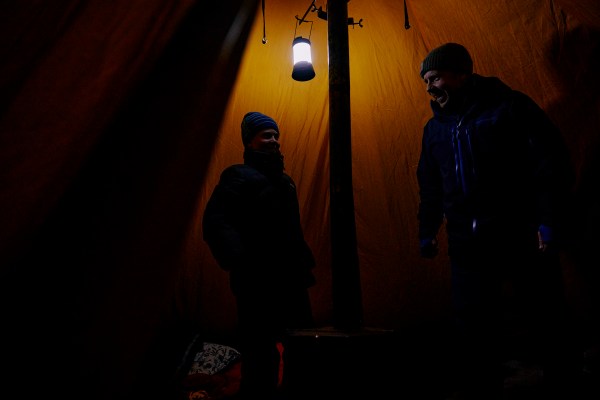 William Rannekleiv Kjendlie, 12 and Petter Kjendlie, show off their tent at the family area in Holmenkollen, Norway on March 10, 2023. Holmenkollen celebrates cross-country skiing and other winter sports in a nation that reveres them. Even the competitors admit the fun is infectious. (David B. Torch/The New York Times)
"Imagine, we didn't need to be carted off in an ambulance," Diggins said Sunday, her sarcasm as thick as the snow.
Diggins, 31, has become a favorite in Norway, where spectators pride themselves on their enthusiasm for the international field — with the exception, perhaps, of their rivals from Sweden. One Norwegian fan club has even serenaded Diggins with a personalized song at events. (Its lyrics include: "She looks like she's a teen; she's better than the queen.")
You have to be drunk when you sing the song, Diggins said, an acknowledgment of just how much a part of Norwegian ski fandom alcohol has become.
"Norwegians don't talk to each other unless they're drinking," said Espen Antonsen, 32, who camped with a few friends along the trail over the weekend.
One year at Holmenkollen, Antonsen said, he drank with the father of an Olympic medalist, producing photographic proof.
"He was drunk and I was drunk," Antonsen said. "And it was really fun."
That proximity to athletes and their families is also a part of the Holmenkollen charm. Fans can walk across the race trail at designated points, hurl insults at Swedes from well within earshot and hand sausages, waffles and drinks across the fence to athletes who fall off the leaders' pace.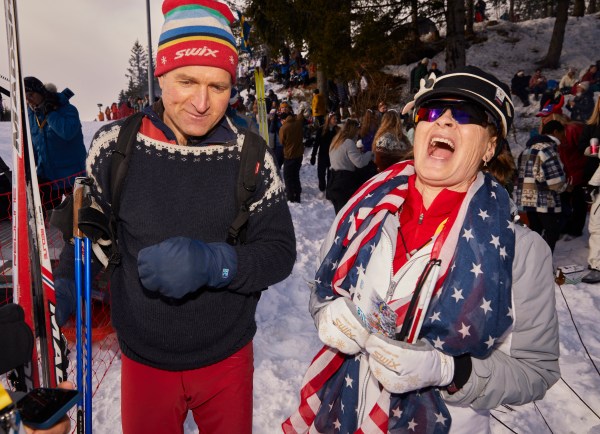 Deb Diggins, the mother of the American Olympic medalist Jessie Diggins, speaks with the Norwegian ski historian and folklorist Thor Gotaas in Oslo, Norway on March 11, 2023. Holmenkollen celebrates cross-country skiing and other winter sports in a nation that reveres them. Even the competitors admit the fun is infectious. (David B. Torch/The New York Times)
"I've had plenty of bad races in Holmenkollen where I've been off the back," Musgrave said. "So I've had my share of beer and shots." He crossed the line in 11th place Saturday, presumably free of waffles and aquavit, a Scandinavian liquor.
The festival is at its loudest and most boisterous at Frognerseteren, where the loop reaches the top of a hill at its most distant point from the stadium. Thousands of fans, mostly there to party and many of them in their 20s, fill the woods in time for the 10 a.m. start, shovel out their own seating areas and turn the course into a tunnel of noise.
For Norwegian athletes, that kind of atmosphere makes winning at Holmenkollen an achievement to rival an Olympic medal. Before the world championships were held at the venue in 2011, Norway star Petter Northug Jr. spent years training specifically for the 50-kilometer race. When he finally won it, he found himself lacking purpose.
"Some days, I didn't get out of bed because I'd won the 50k in Oslo," Northug said in an interview. "What was there more to win?"
Holmenkollen's two-hour races, which are televised nationally, have shown enduring popularity in Norway even as organizers say they now compete with other events in the city and Netflix for the attention of both fans and the next generation of racers.
If anything, the biggest threat to the event may be Norway's dominance of cross-country skiing. In the men's race Saturday, Norwegians took the first 10 spots in the final results. Athletes and coaches on the international circuit have long said that more nations need to be vying for the podium to sustain the interest and television rights income outside Scandinavia that sustain the sport.
"We are really good in cross-country skiing," Martin Johnsrud Sundby, a Norwegian Olympian turned commentator, said after his country's dominating performances at the world championships this month. "But it's not good to be good in cross-country skiing if nobody else is good."
This article originally appeared in The New York Times.