As we could see in our previous instalment, the global market is currently experiencing several significant trends and developments.
One key driver is the acceleration of digital transformation across multiple sectors, leading to increased adoption of technology. Businesses are also incorporating behavioural analytics and biometrics into their product development to enhance the user experience and secure transactions, and generative AI solutions are becoming more prevalent. Additionally, there has been a shift in the market as young digital identity startups are being acquired by established, larger competitors. The competition among banks and bigtechs over digital wallets is heightening the importance of digital identity in the market. Worldwide, privacy and data protection laws are becoming more stringent, and the demand for user control over personal data has led to the widespread adoption of Self-Sovereign Identity (SSI) solutions. There have also been updates to regulatory frameworks around digital identities, such as eIDAS 2.0 in Europe and the revised Digital Identity Guideline from NIST in the US.
The war in Ukraine has highlighted the interconnectedness of financial markets, anti-corruption, global security, and democratic prosperity. Meanwhile, high inflation and the rising cost of living are leading individuals to fall prey to scams or turn to criminal activities like money laundering or fraud. The rise in digital onboarding is another key trend in the financial crime landscape as more customers seek to engage with financial institutions digitally, and the crypto industry poses a challenge for financial institutions in terms of Anti-Money Laundering (AML) compliance.
Taken together, these trends and developments inform business strategy and decision-making, shaping the competitive landscape and defining the next big thing in the industry.
Despite the turmoil of the past year, there is still growth potential in the regtech sector. The European regtech market is expected to experience a compound annual growth rate (CAGR) of 19.5% during 2021-2027. The European Union has established regulatory criteria to combat the rising number of financial industry frauds. The regulatory intelligence segment is predicted to experience growth in the future, and many small and medium businesses are adopting regtech solutions to avoid additional compliance and fraud costs. The UK is expected to continue dominating the European market, with Germany leading the market by country in 2020 and projected to achieve a market value of USD 1,597.3 million by 2027.
The digital identity market worldwide generated an estimated revenue of USD 27.9 billion in 2022, with a projected growth of USD 70.7 billion by 2027. This represents a Compound Annual Growth Rate (CAGR) of 24.4% between 2020 and 2027. The growth is attributed to the increasing popularity of ID wallet solutions and the proliferation of online services by commercial enterprises in recent years. According to Data Bridge Market Research, the Europe identity verification and authentication market is projected to grow at a CAGR of 17.1% during the forecast period of 2021 to 2028, with an estimated value of USD 21 million by 2028. The market's growth is driven by a high dependence on Cloud Identity and Access Management solutions. Additionally, the rapid digitisation of businesses in European regions is another factor that contributes to the market's expansion.
Businesses may seek partnerships or cash for various reasons. Startups with promising ideas may want to grow into established businesses, while others may already be established and looking to develop their product suite or open more regional offices to expand internationally. Additionally, accelerating the delivery of an enhanced end-to-end identity platform to optimise onboarding workflows, add AML functionality, or scale their team is also at stake. Some businesses are looking into consolidating their operations, safeguarding their businesses (and enabling them to comply with various regulations – KYC, AML, etc.), or creating more transparency around payment flows.
Identity verification investments
In the first half of 2022, there were numerous funding rounds for identity verification companies in Europe. Notably, the year began with Veriff, an identity verification startup, receiving a significant investment of USD 100 million. This was the highest amount invested in an identity verification company at that time, valuing Veriff at USD 1.5 billion. At the same time, iProov received USD 70 million from Sumeru Equity Partners to grow its presence in the US and expand its international reach, partner network, and workforce.
However, investments in other identity startups gradually decreased by the end of 2022.
OCR Labs secured USD 30 million to further expand globally and establish an office in North America, building on its previous funding of USD 16 million in 2021 and UK-based Shufti Pro announced a USD 20 million Series A funding round to enhance and expand its product suite.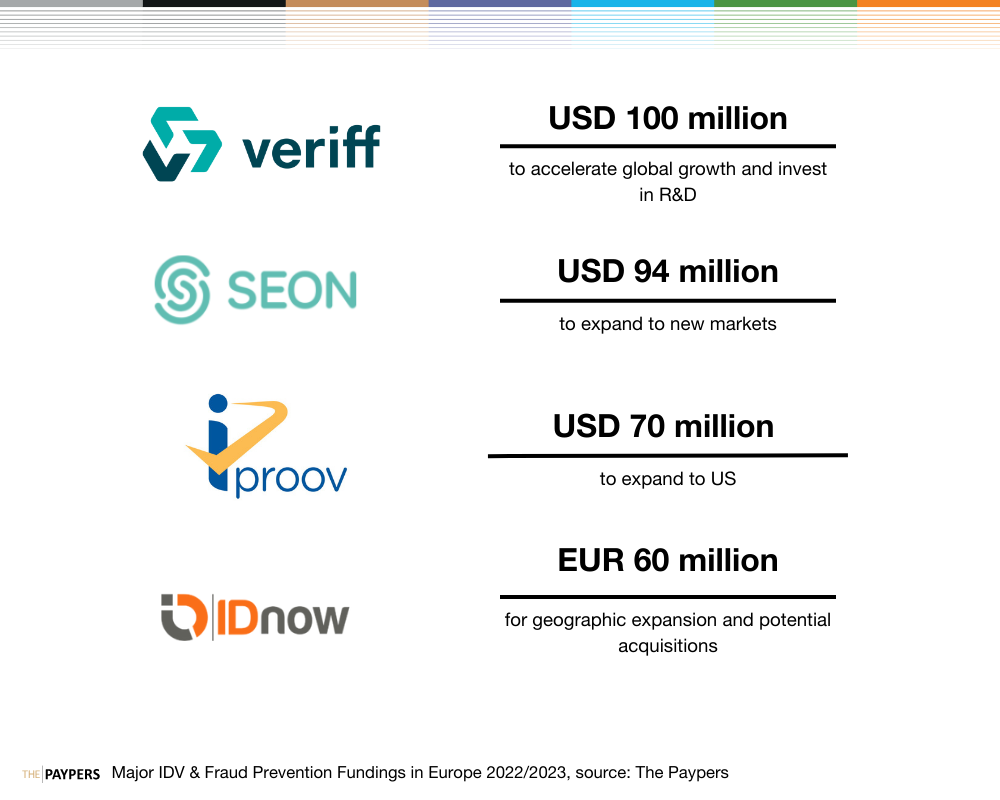 Regtech and fraud prevention investments
Munich-based IDnow received a EUR 60 million debt facility, to provide identity verification, document signing, and identity management services to over 900 enterprise clients across 195 countries. IDnow works with Interpol to provide training programs to local law enforcement and immigration departments. UK-based Encompass secured a USD 33 million investment in H1 2022 to expand globally and automate KYC processes for banks.
Lucinity, an Iceland-based regtech, raised a USD 17 million Series B investment round from Keen Venture Partners, Experian, Crowberry Capital, Karma Ventures, and byFounders in H2 2022, partnering with Experian and Seon to provide ongoing KYB and risk assessments and a joint anti-money laundering and fraud prevention solution. Other regtechs such as ID-Pal (EUR 7 million), Detected (GBP 1.5 million), and Themis (GPB 3.1 million) have also secured funding to support company growth, sponsor expansion plans, and increase staffing.
When it comes to fighting fraud for FIs and fintechs, SEON is on track to becoming the Internet's fraud prevention of choice. Their mission has been validated by partners such as Revolut, Wise, Mollie, and Patreon, and in April 2022, when they raised USD 94 million for their Series B.
Some investments were undisclosed, including CUBE's funding from Bregal Milestone to develop an automated regulatory intelligence platform and Dow Jones' equity investment in Ripjar, with an extended partnership agreement for a next-generation SaaS solution for adverse media and sanctions screenings.
In Q1 2023, Ireland-based Inscribe raised USD 25 million to double its current team of 50 people, after previously raising USD 3 million in 2018 and USD 10 million in Series A funding in 2021, and Germany-based Hawk:AI raised EUR 17 million to accelerate product development and global expansion.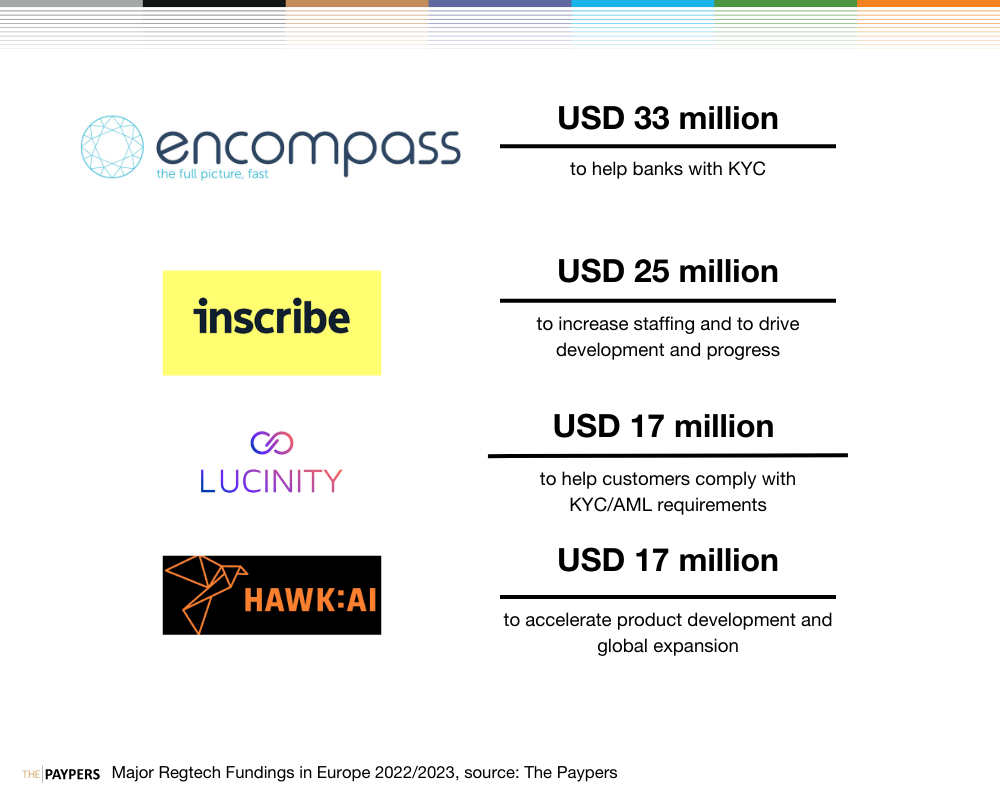 Regtech and IDV partnerships
Even if regtech startups secured significant investments in 2022, these have mainly relied on partnerships and acquisitions to enhance their capabilities in AML/KYC compliance and to combat financial crime and fraud.
WorldFirst and AU10TIX expanded their partnership in H2 2022, aiming to provide a seamless onboarding experience for WorldFirst's customers in Europe, the Middle East, and Africa. Know Your Customer and Hawk:AI teamed up in October 2022 to improve financial crime compliance in fintech, while Ondato and Radix Compliance joined forces to meet specific anti-money laundering regulatory requirements for Radix Compliance clients in various countries.
Building on eIDAS 2.0 plans to develop digital identity wallets for its citizens, Verimi and Yes merged at the end of 2022 fall to create a digital identity ecosystem in Germany and align the interests of banks and businesses. iDenfy and AMLYZE partnered up in Q1 2023 to help SMEs combat financial crime, and Shufti Pro teamed up with KYC Portal to meet its AML requirements. Finally, Amber Group partnered with Ripjar to improve its ability to detect and prevent financial crime and online threats across its operations in real time.
Regtech and IDV acquisitions
In the identity verification space, several acquisitions took place in 2022. InnoValor, the creator of ID verification specialist ReadID, was acquired by Netherlands-based private equity firm Main Capital Partners at the beginning of the year. ReadID's NFC-chip verification technology has been used by the UK Home Office for its EU Settlement Scheme, and the partnership with Main will aid ReadID's expansion efforts.
The London Stock Exchange Group (LSEG) acquired Global Data Consortium Inc (GDC) in the spring of 2022, while Fenergo completed the acquisition of Sentinels, an AML company based on AI technology. Norway-based Signicat acquired Sphonic, a UK-based anti-fraud company, and France-based Thales acquired OneWelcome, a European player in customer identity and access management for EUR 100 million. This acquisition will complement Thales's existing identity services, including secure credential enrolment, issuance, and management, and Know Your Customer processes.
UK-based digital identity provider GB Group (GBG) was set to be taken over by US-based private equity firm GTCR for GBP 1.3 billion. The potential takeover of GBG is part of a trend of foreign investors eyeing UK tech companies amid the challenging economic climate and decreasing value of the pound.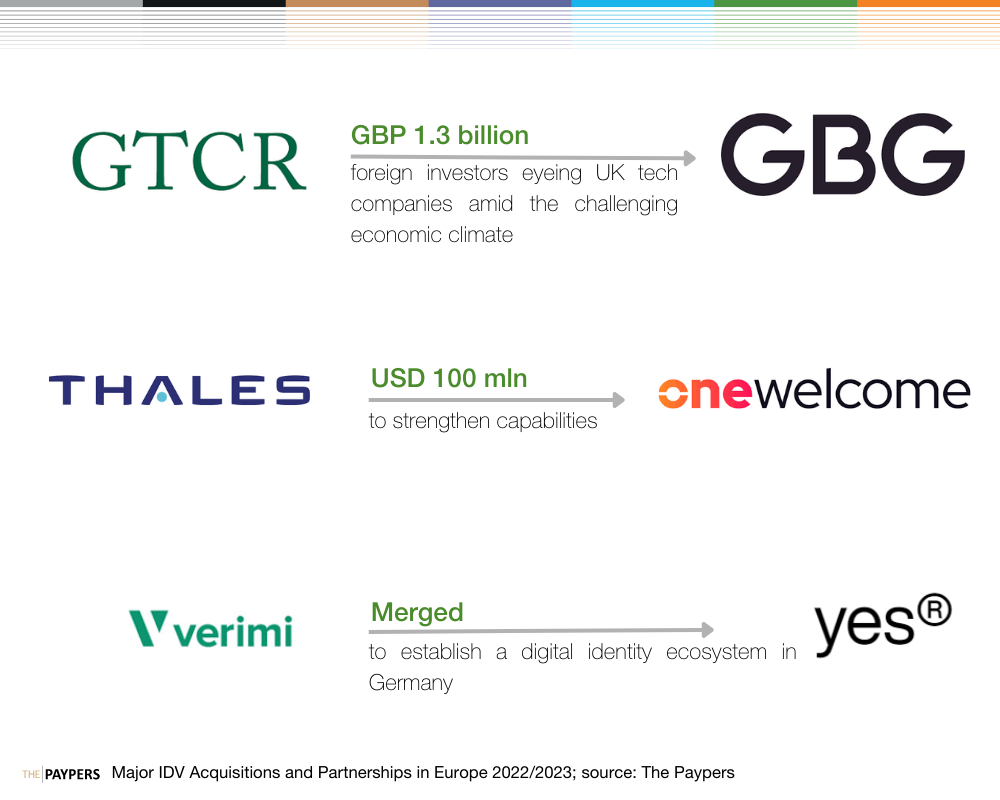 Meanwhile, Giesecke+Devrient (G+D) acquired a majority stake in Swiss software company Netcetera. In the regtech and fraud prevention space for FIs, CUBE acquired The Hub, and AMLYZE partnered with Ondato to help financial institutions invest in prevention. In January 2023, Hungary-based fraud prevention company SEON acquired AML company Complytron to launch a unified fraud, AML, and fincrime platform in response to the global surge in AML fines.
Overall, the world economy faces multiple challenges including the COVID-19 pandemic, war in Ukraine, inflation, debt tightening, and the climate emergency. However, businesses may still seek partnerships or cash for growth, product development, expanding internationally, and enhancing their platform. Some businesses also aim to consolidate operations, comply with regulations, and increase transparency in payment flows.
Europe is buzzing with M&A activity! But we're not done yet – if we missed any companies, we want to hear from YOU. Don't be shy, drop us a line at mirelac@thepaypers.com or editor@thepaypers.com. And just wait until you see what we have in store for the next installment: we'll be uncovering the big bucks being poured into regtechs and IDVs across the US, Canada, and LATAM!
About Mirela Ciobanu

Mirela Ciobanu is Lead Editor at The Paypers, specialising in the Banking and Fintech domain. With a keen eye for industry trends, she is constantly on the lookout for the latest developments in digital assets, regtech, payment innovation, and fraud prevention. Mirela is particularly passionate about crypto, blockchain, DeFi, and fincrime investigations, and is a strong advocate for online data privacy and protection. As a skilled writer, Mirela strives to deliver accurate and informative insights to her readers, always in pursuit of the most compelling version of the truth. Connect with Mirela on LinkedIn or reach out via email at mirelac@thepaypers.com.