• Jaylen Warren's back-to-back 100-yard games: The Pittsburgh Steelers receiving back has been much more involved in the run game and broke a 74-yard run for the Steelers' only touchdown.
• Tank Dell leads the Houston Texans again: The third-round rookie receiver achieved his third game of the season with at least 25 PPR points thanks to his eight receptions for 149 yards and a touchdown today.
• Tyreek Hill's historic season continues: Hill reached the 1,200 receiving yard mark with his fifth game of over 140 receiving yards this season.
Estimated reading time: 10 minutes
---
PFF's fantasy football recap focuses on player usage and stats, breaking down all the vital information you need to achieve fantasy success in 2023.

---
Tony Pollard

: 12 carries, 61 yards, 1 touchdown; 4 receptions, 19 receiving yards

CeeDee Lamb

: 6 receptions, 38 yards, 1 touchdown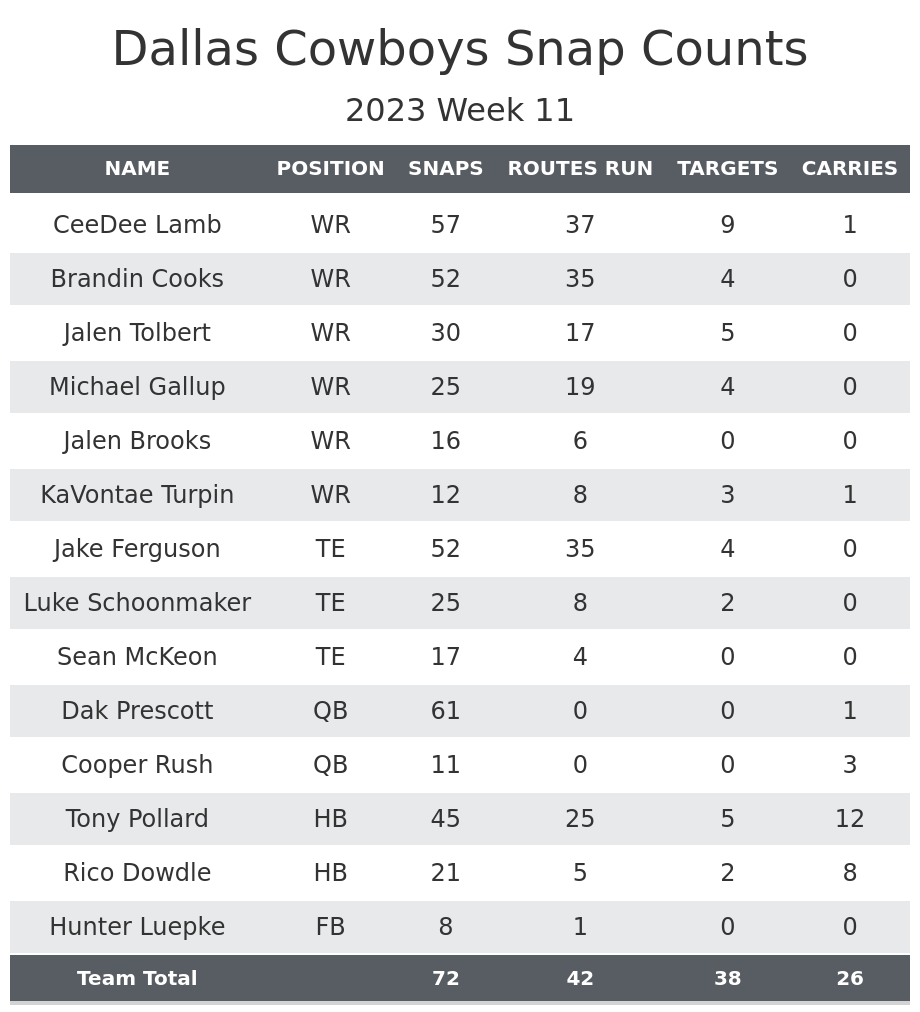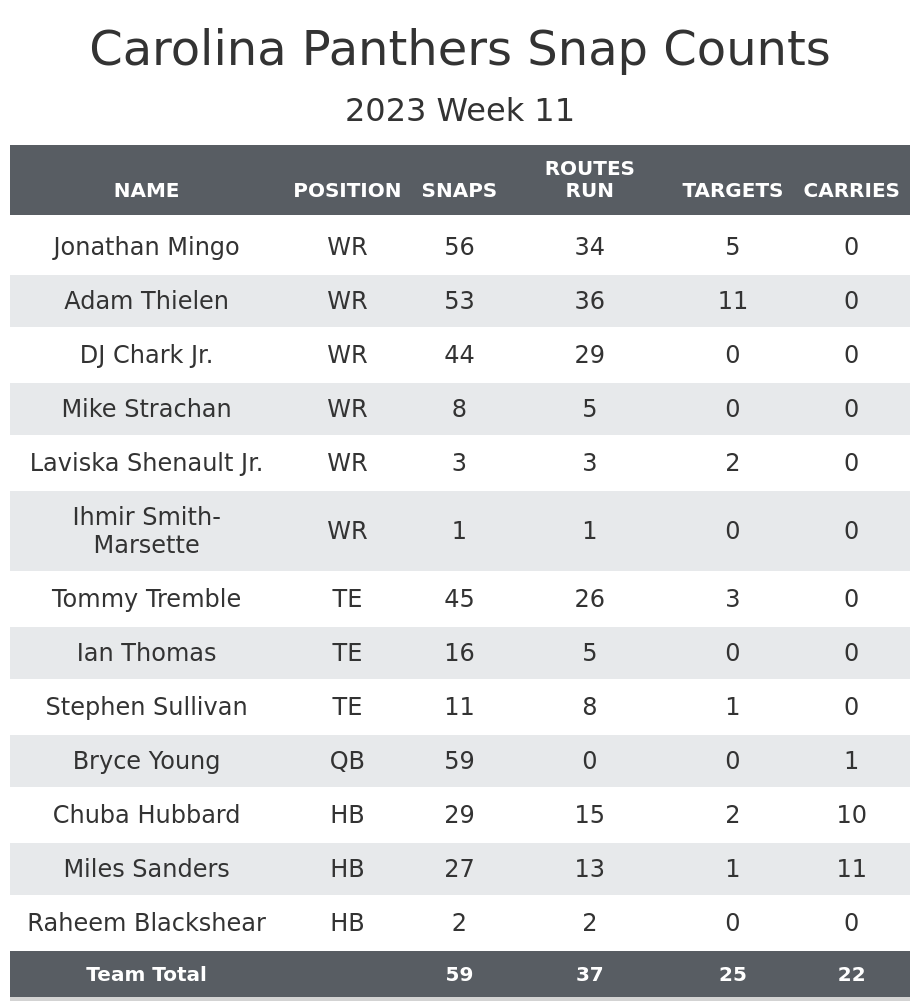 Miles Sanders pulls back even with Chuba Hubbard: Sanders' playing time has increased in each game over the past month.
Hubbard ran the ball 10 times for 57 yards and caught two passes for eight yards while Sanders ran 11 times for 50 yards and caught a two-yard pass.

Their split was near-perfect in every situation. Hubbard played one more snap than Sanders on early downs, one more on third downs, and the two took two snaps each in short-yardage or goal-line situations.

Hubbard started the game and they rotated by drive, but if the drive lasted more than four plays, then both running backs would play snaps on the drive. Typically, when a team rotates by drive, a running back will stay on the field even if it is a longer drive.

The backfield will likely start as a 50/50 split for the foreseeable future, but if one running back gets the hot hand, they could take over for the second part of the game or potentially earn the job for the rest of the season.

The Panthers have one of the worst schedules for running backs the rest of the season, so this is likely a situation for most fantasy managers to avoid except in deeper leagues.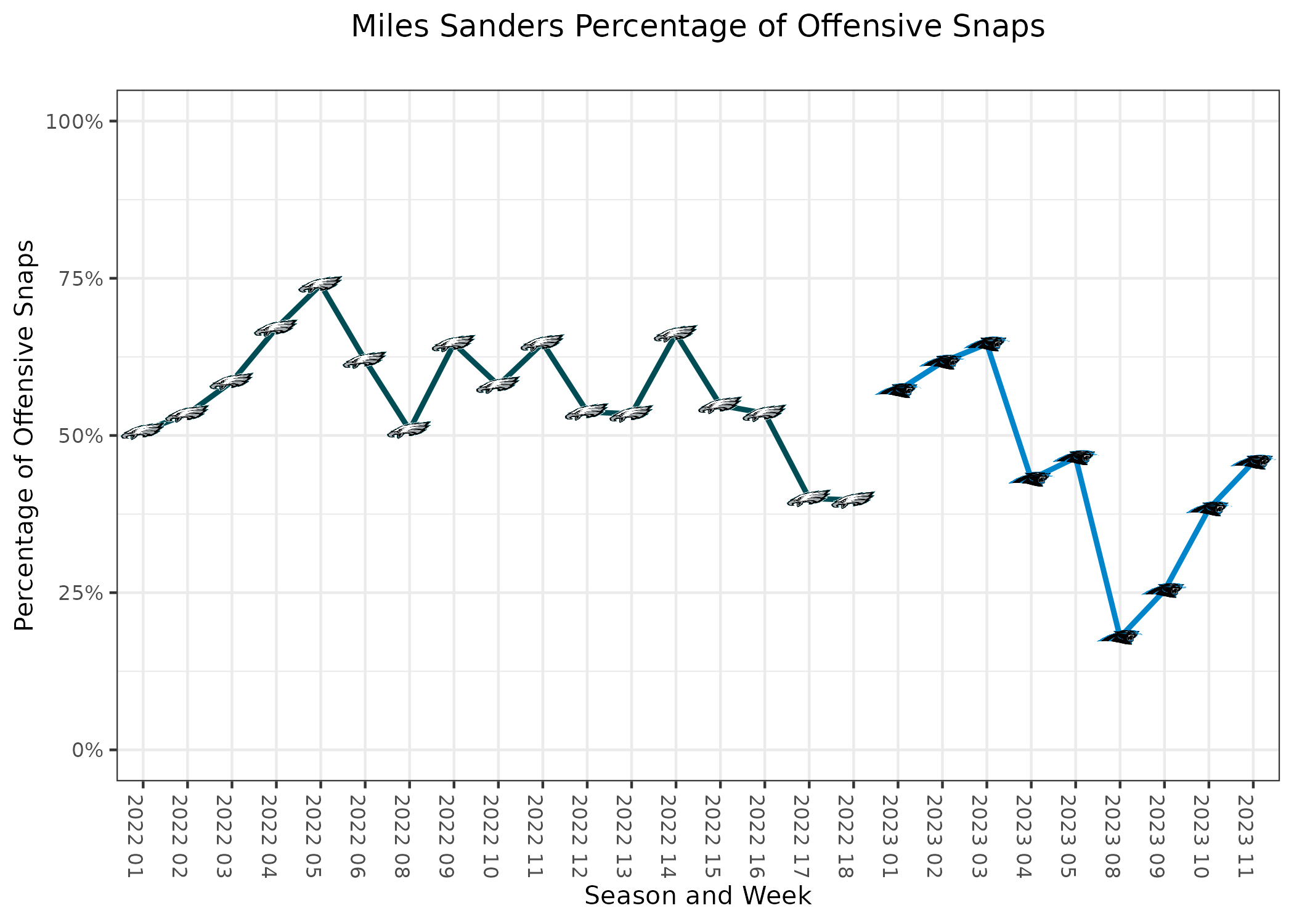 Tommy Tremble starts at tight end: The Panthers' usual tight end Hayden Hurst was inactive due to a concussion.
The Panthers started the season with Hurst, Tremble and Ian Thomas playing significant snaps at tight end. Hurst was the main player in passing situations and the other two played more in blocking situations.

Thomas landed on injured reserve after Week 5. From Weeks 6-10, Tremble played more offensive snaps than Hurst, but Hurst remained the primary receiver while Tremble was the primary blocker.

Tremble played 32 of a possible 45 snaps in 11 personnel and 12-of-13 in 12 personnel. He only caught one pass in the game, but it was Carolina's only touchdown.

Thomas was activated off injured reserve and served as the other tight end in two tight end sets, taking all 13 snaps in that personnel grouping but only taking three snaps in 11 personnel.

Stephen Sullivan has spent most of the season as Carolina's third tight end, and he was the primary backup in 11 personnel. He caught a 20-yard pass, and that one play was enough to finish second on the team in receiving yards.

This remains a position to avoid given the state of the Panthers offense and the rotation at the position.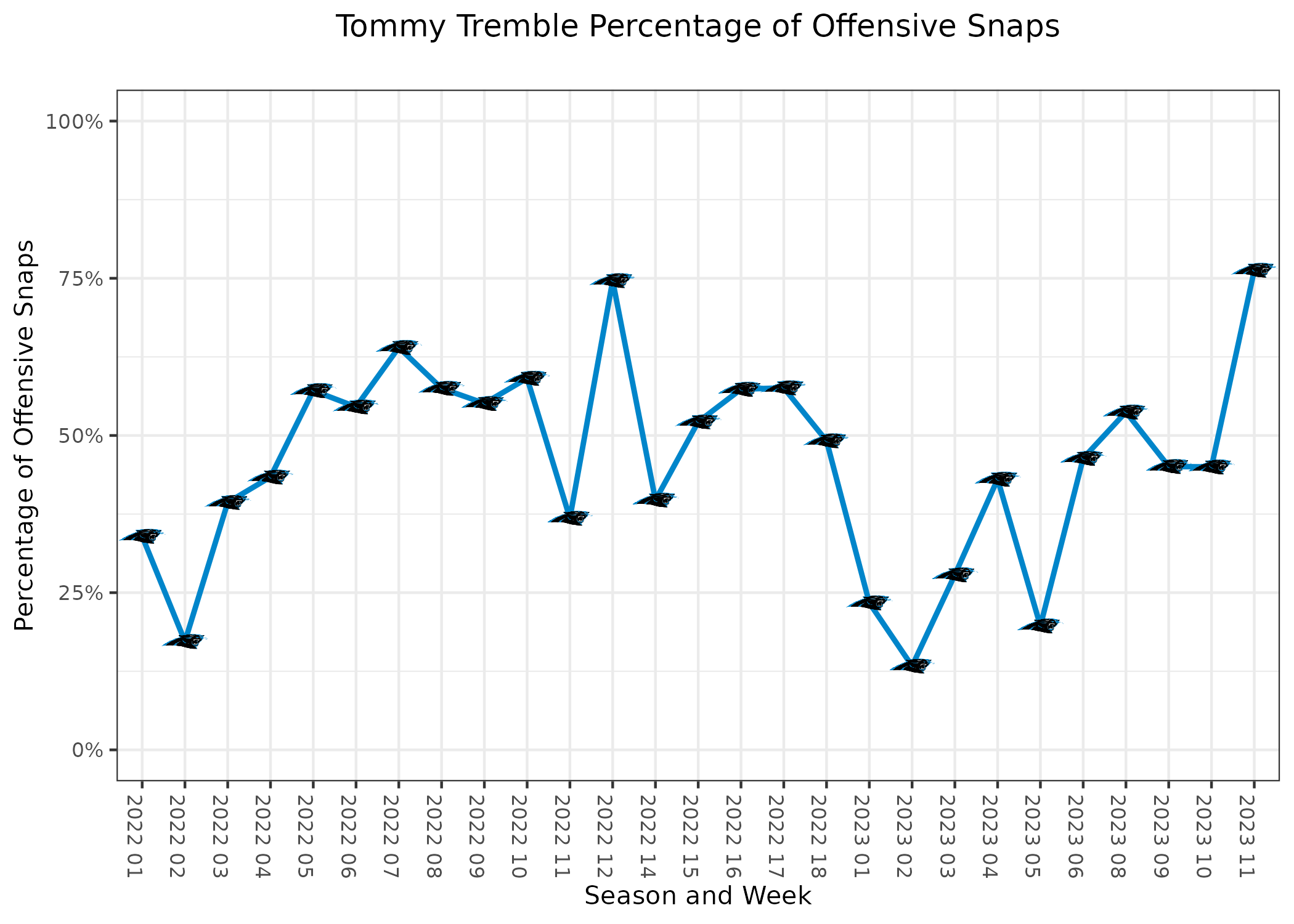 Michael Gallup's playing time reaches a new low: Gallup's share of offensive snaps has declined each game since Week 5.
Gallup played in 18 of a possible 32 snaps in 11 personnel over the first three quarters with

Jalen Tolbert

taking 14.

Tolbert played more last week by taking a few snaps from Brandin Cooks as well, but Cooks played in 29 of 32 snaps in 11 personnel.

Gallup also took all five snaps in 01 personnel — a grouping with no running back while

KaVontae Turpin

is on the field. Turpin is capable of running with the ball.

Gallup didn't take a single snap in a two-wide-receiver set for the second straight week.

Last week, Gallup continued to play into the fourth quarter with the backups because Turpin was inactive, making Gallup clearly among the bottom three on the depth chart.

This week, Gallup only took two snaps in the fourth quarter with

Jalen Brooks

and Tolbert taking most of the fourth-quarter snaps.

Gallup caught three passes for 31 yards. It's possible his playing time bounces back in a more competitive game but even with a bounceback, he can be dropped in most fantasy leagues.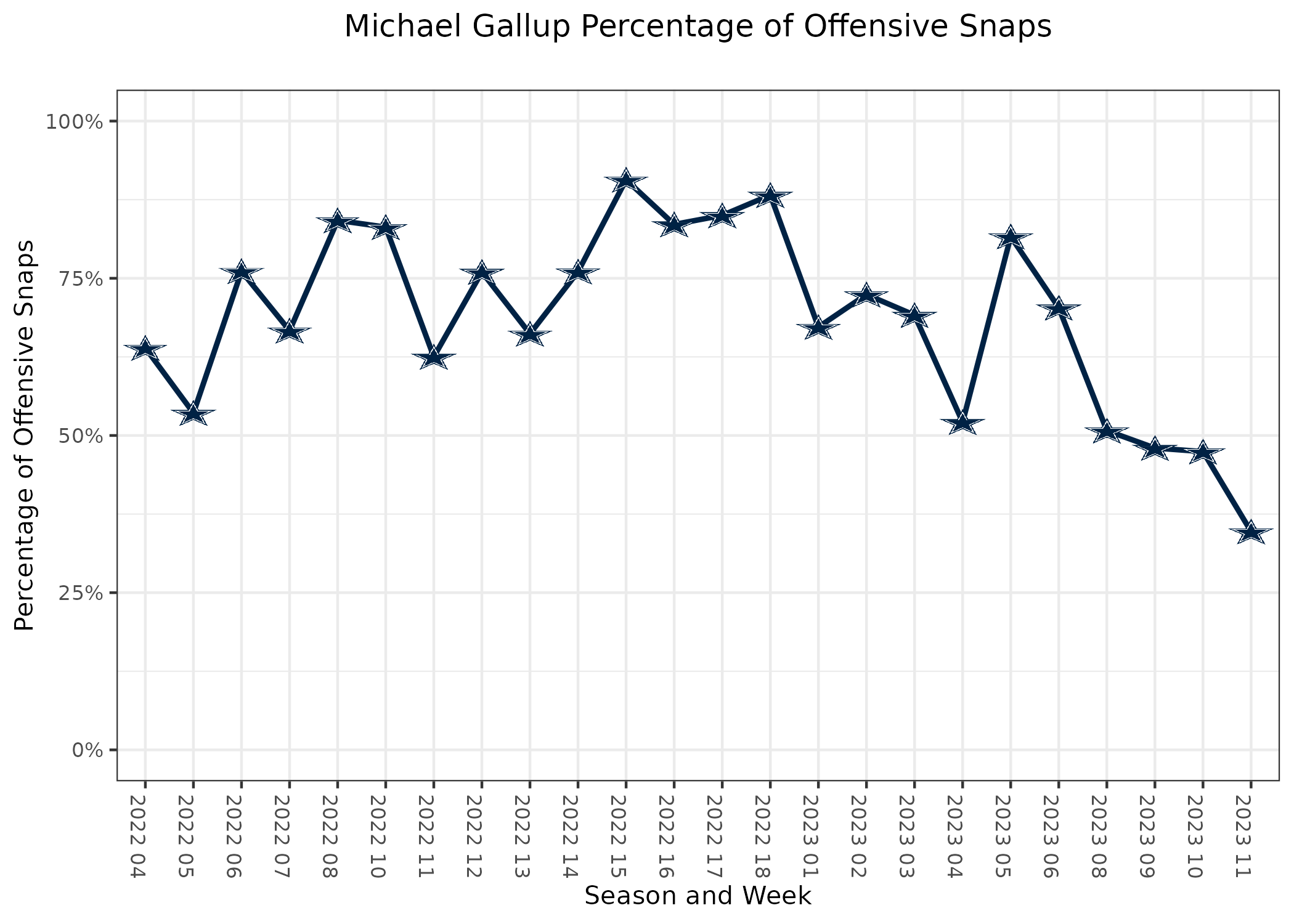 Miscellaneous Notes
---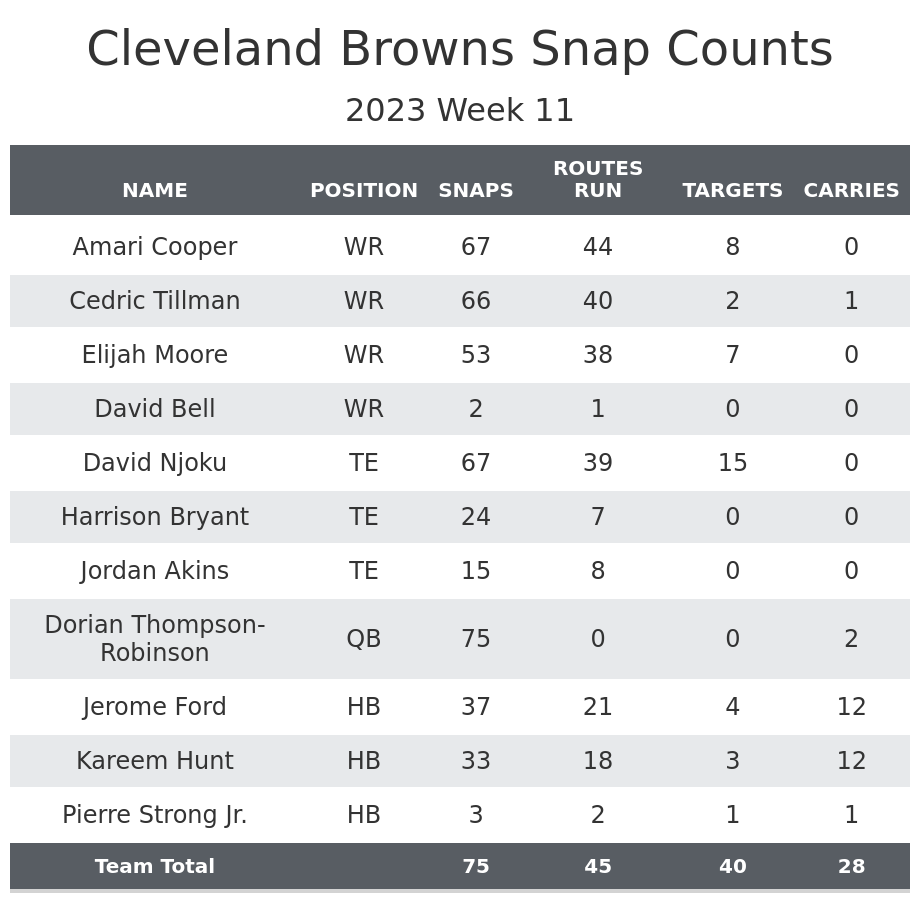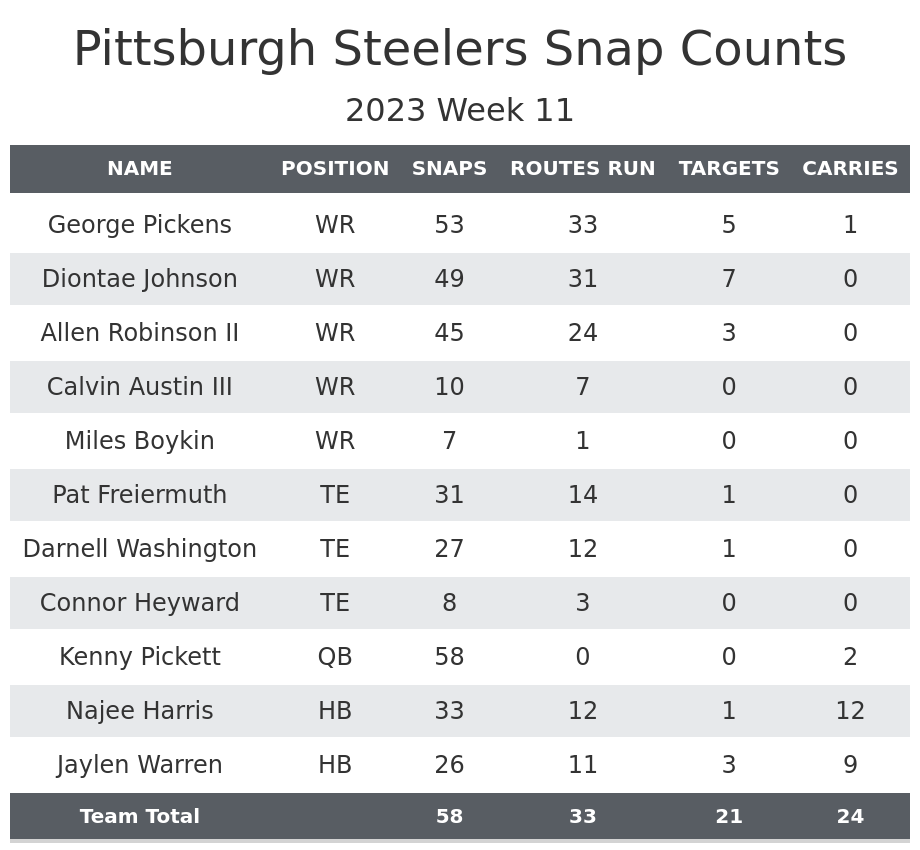 Pat Freiermuth returns to Pittsburgh: The Steelers starting tight end was activated off injured reserve after dealing with a hamstring injury.
Freiermuth returned to being the primary tight end in 11 personnel and 12 personnel, but he was rotating in and out of 11 personnel more often than usual.

Darnell Washington

was always the tight end with him in 12 personnel. Washington is Freiermuth's primary competition for 11 personnel snaps.

While Washington and third-string tight end Connor Heyward were used more in run-blocking situations out of 11 personnel. Freiermuth was often asked to stay in for pass protection, typically to help block

Myles Garrett

.

This led to only one target, which he caught for seven yards.

It's likely Freiermuth will play a higher percentage of offensive snaps going forward once he's closer to 100%, but he will need to see a higher target share before he can get back in fantasy starting lineups.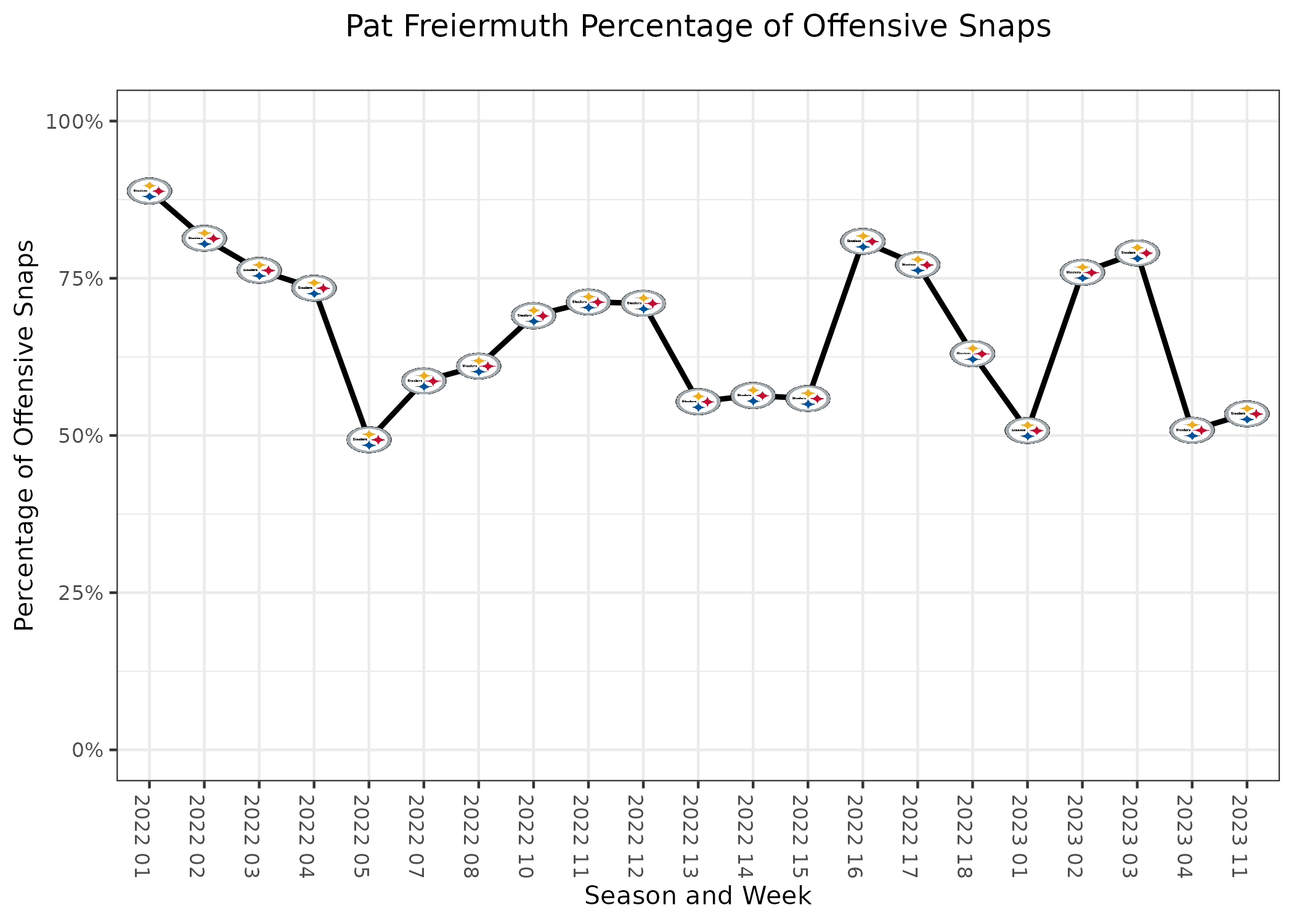 Kareem Hunt breaks even with Jerome Ford again: The Browns backfield seemed to stabilize the past two weeks, but Cleveland changed its tendencies this week.
Ford played a clear majority of Cleveland's early-down snaps over the past two weeks with both running backs healthy, so it seemed like that trend would continue. Instead, Hunt played more snaps in those situations this week.

Ford played all 12 snaps on first and second down on the first two drives and

Pierre Strong Jr.

took the snaps on the third drive. Hunt played for most of the game after that.

Ford was also playing 100% of the two-minute drill work, but those snaps were split this week.

Hunt had consistently been the goal-line back when both players were healthy, but it was Ford this week, leading to a one-yard touchdown.

Hunt took 15 of a possible 16 snaps in the fourth quarter. There were times throughout Hunt's career when

Nick Chubb

played most of the first three quarters and then Hunt would close the game in the fourth, and that seemed to be the case this week.

Both players ended up with 12 carries for 30-40 yards and a few receptions each for single-digit yards.

It will remain a risk counting on either one of these running backs for the rest of the season based on their inconsistent usage.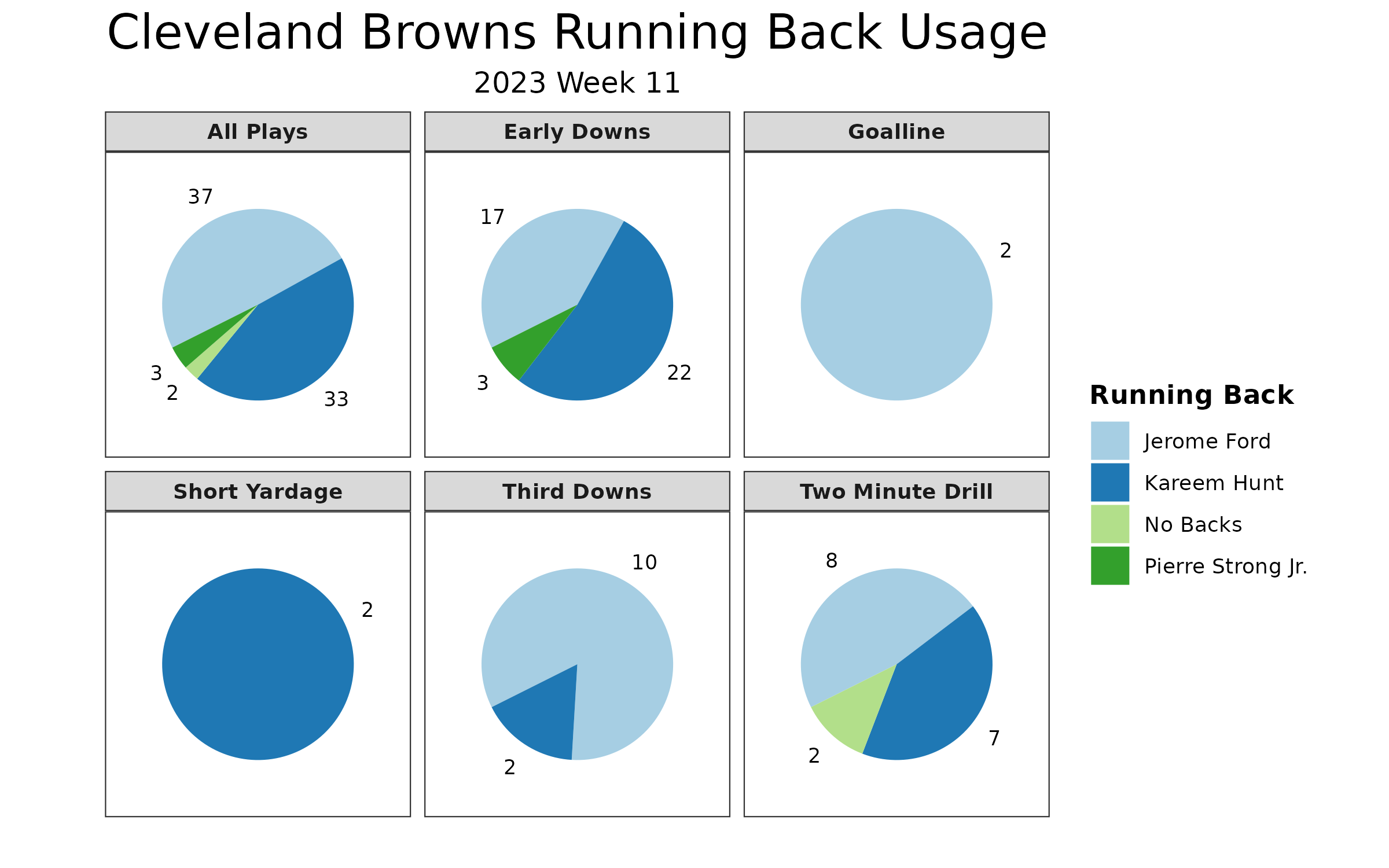 Miscellaneous Notes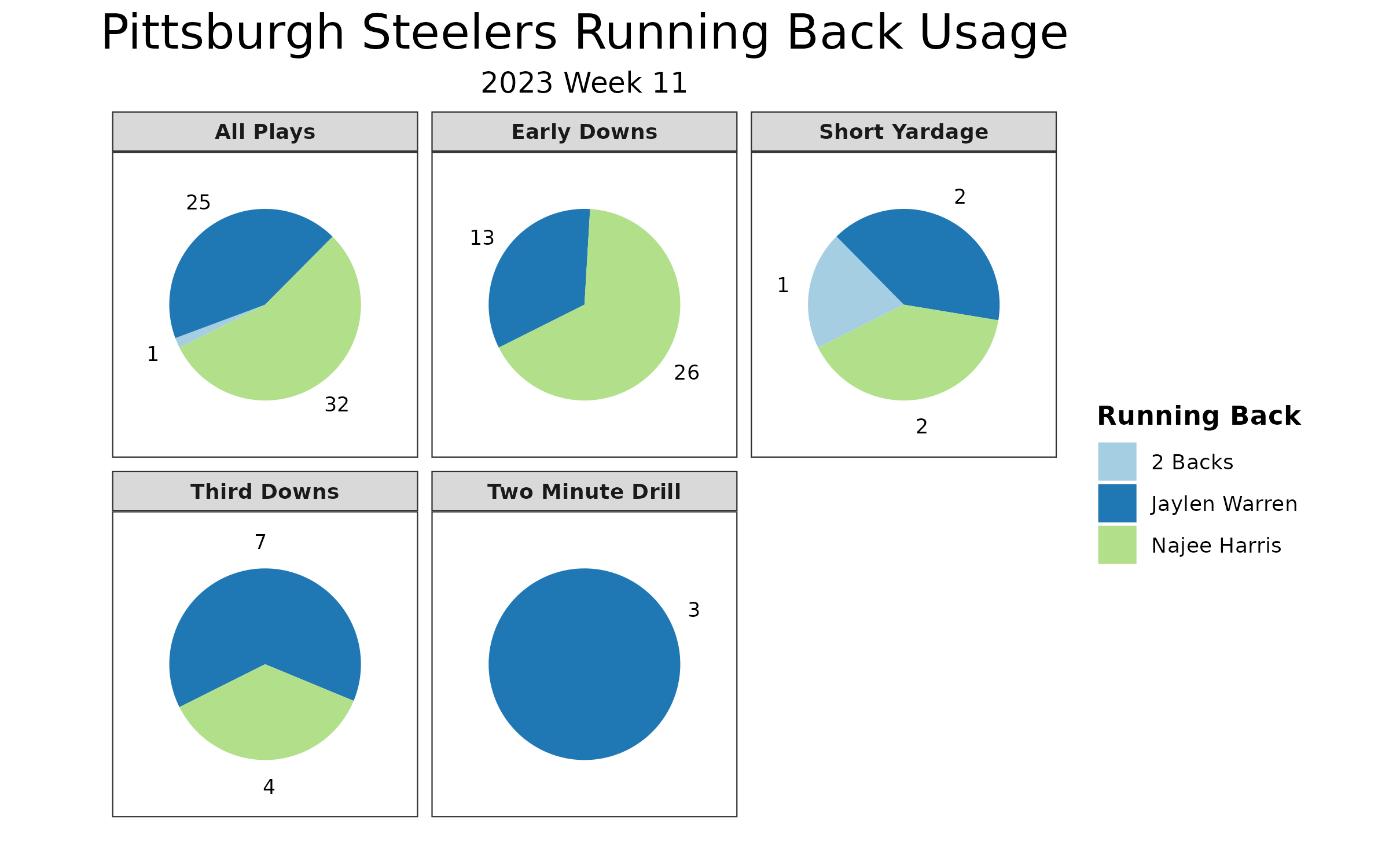 ---
D.J. Moore

: 7 receptions, 86 yards, 1 touchdown

Jahmyr Gibbs

: 8 carries, 36 yards, 1 touchdown; 6 receptions, 59 receiving yards
Coming soon!
---
Keenan Allen

: 10 receptions, 116 yards, 1 touchdown

Jayden Reed

: 4 receptions, 46 yards; 3 carries, 46 yards, 1 rushing touchdown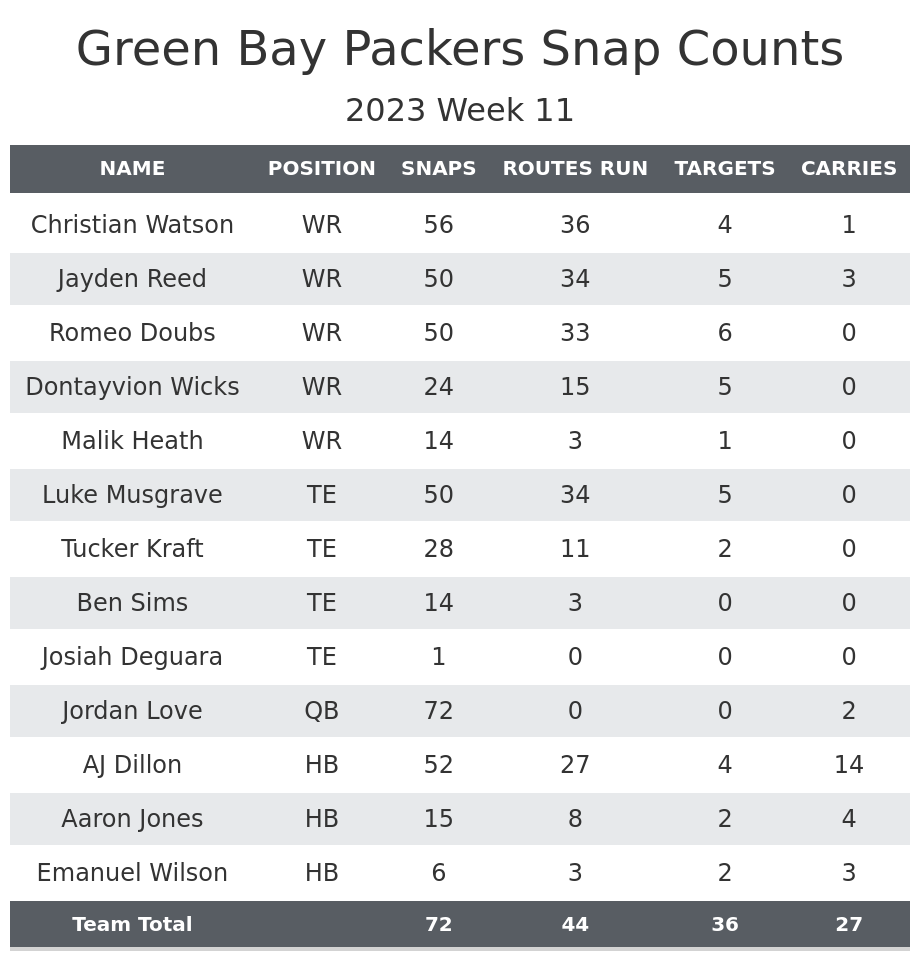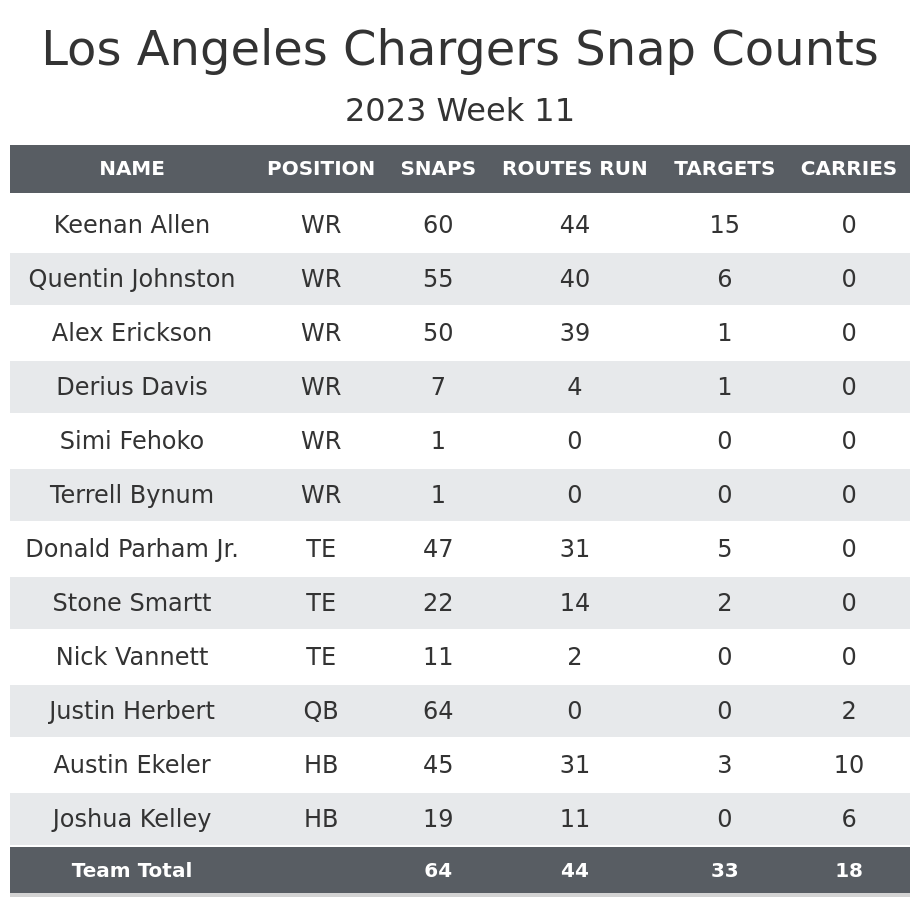 Monitor Aaron Jones' health: Jones left the game on a cart in the second quarter and was quickly ruled out.
Luckily, Jones spoke with the media after the game, stating

preliminary tests

show it was not an ACL tear and more tests will be done Monday.

Shortly after Jones' injury, third-string running back

Emanuel Wilson

suffered a game-ending shoulder injury, and his

arm was in a sling

after the game.

This left

A.J. Dillon

as the last man standing. He took all 32 snaps of the second half.

Dillon ended the day with 14 carries for 29 yards and four receptions for 32 yards.

He will be a borderline fantasy starter for as long as Jones is out just depending on who the Packers' opponent is and the projected game script.

Undrafted rookie

Ellis Merriweather

is the only other Packers running back on the practice squad. He will likely be brought to the active roster if Jones or Wilson miss next week. He would be the primary backup if both players miss time.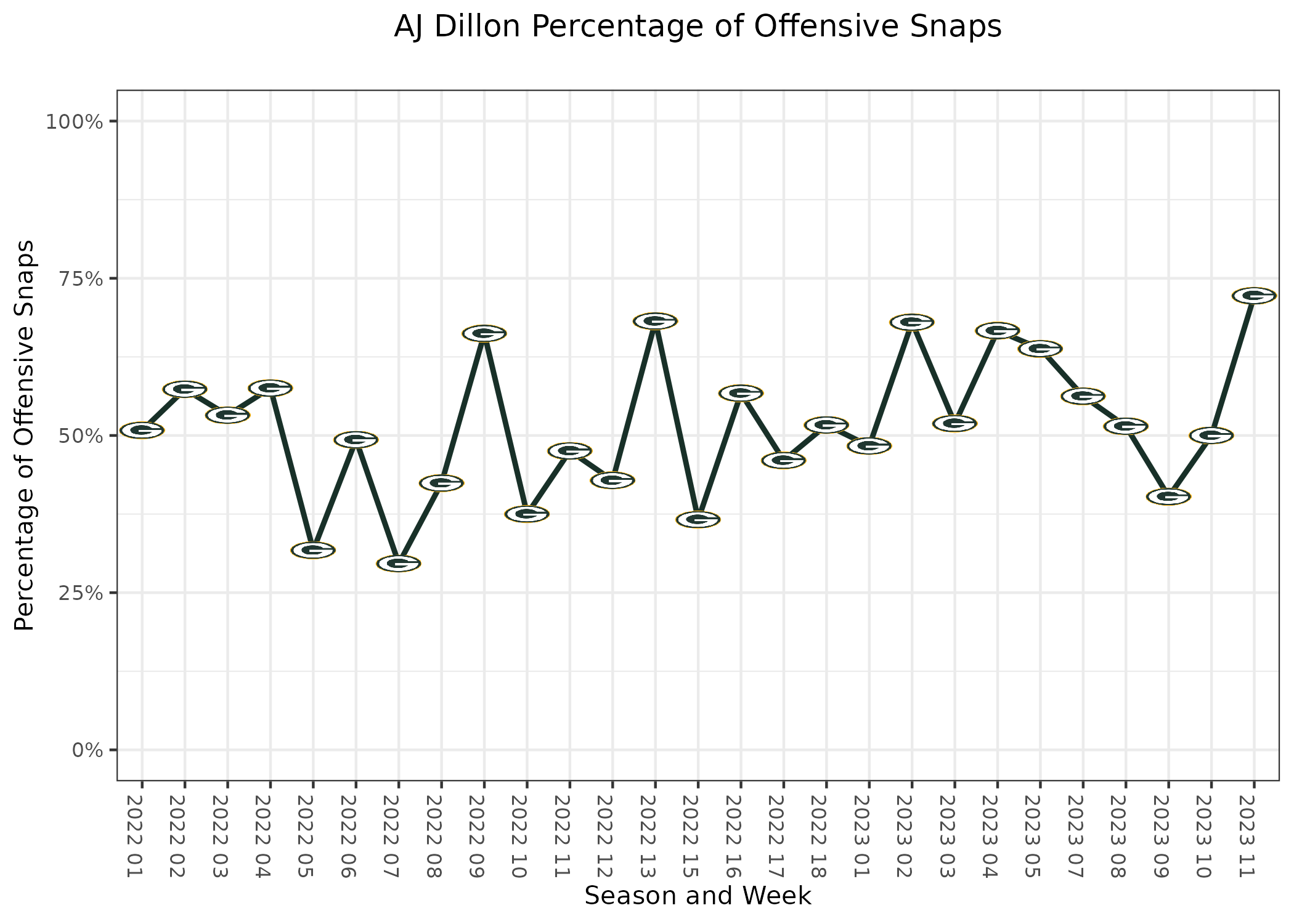 Chargers backup tight ends shine without Gerald Everett: Donald Parham Jr. and Stone Smartt both gained over 50 receiving yards, finishing second and third on the team in receiving yards. 
Everett didn't practice all week due to a chest injury and was ultimately inactive.

Los Angeles has been using a four-man rotation at tight end in recent weeks, but Everett was the primary 11 personnel tight end in passing situations throughout the season.

Parham was consistently playing in 12 personnel in this game while Smartt and Nick Vannett split the other snaps.

Parham similarly was the primary player in 11 personnel, taking 33 of a possible 50 snaps with Smartt taking 13 and Vannett four.

The three shared the field for two snaps in 13 personnel.

Parham and Smartt's increased roles allowed both formerly undrafted players to set new career highs in receiving yards. 

They can be left on the waiver wire because Los Angeles will continue a rotation at tight end once Everett is back.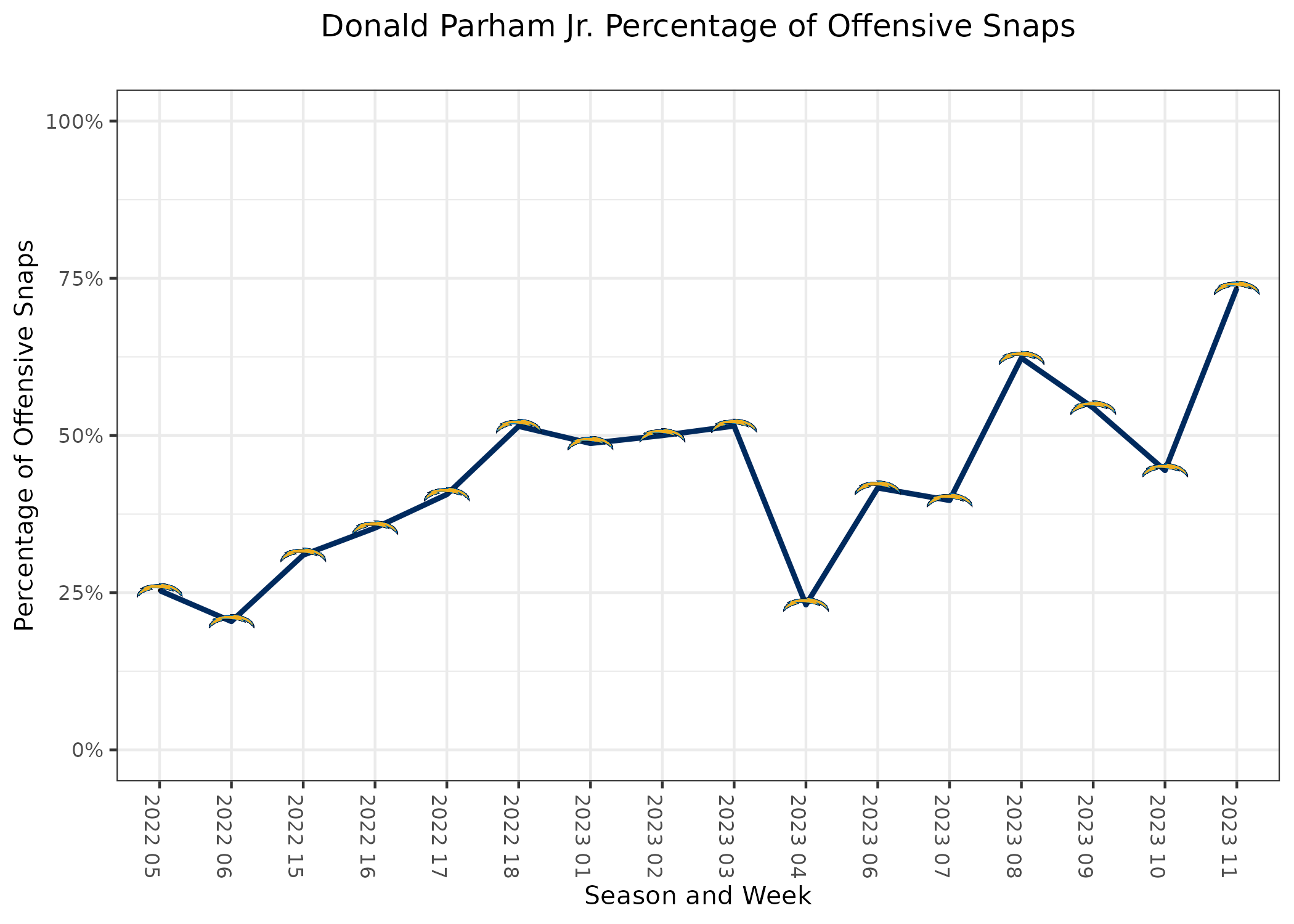 Chargers dig deep down the wide receiver depth chart: Jalen Guyton was the latest Chargers wide receiver to miss time due to a groin injury.
Guyton didn't show up on the injury report until Friday, when he was a limited participant in practice, but he was ultimately inactive.

He joins

Joshua Palmer

and

Mike Williams

as three of the Chargers' top five wide receivers from their initial depth chart to be out.

Derius Davis

seemed like the logical replacement to play in three-receiver sets, as the rookie's taken 80 offensive snaps this season.

Simi Fehoko

seemed like the other option with his 22 snaps heading into this week.

Instead, it was 31-year-old veteran

Alex Erickson

,

who was activated off the practice squad.

He's been on five different teams over the last three seasons, and this was his first offensive snaps since 2021.

Erickson caught one pass for 12 yards as the passing game was focused on other players.
Miscellaneous Notes
Jayden Reed

led the Packers in rushing yards with 46 off three carries. He only ran the ball twice over the first 10 weeks. All three carries occurred in the first 16 minutes of the game before either running back injury occurred.

Fifth-round rookie wide receiver

Dontayvion Wicks

set a career-high in receiving yards with 91. His playing time has remained unchanged the past few weeks as the primary backup to both

Christian Watson

and

Romeo Doubs

.

Doubs has caught a touchdown in four of his past five games.

Austin Ekeler

has seen his share of offensive snaps increase slightly in every game since Week 7. This was the first time since Week 12 of last season that he played over 70% of the Chargers' offensive snaps.

Despite the increased playing time, Ekeler set a season-low in carries at 10 and he received his second-fewest targets at three.
---
Tank Dell

: 8 receptions, 149 yards, 1 touchdown

Devin Singletary

: 22 carries, 112 yards, 1 touchdown; 2 receptions, 6 receiving yards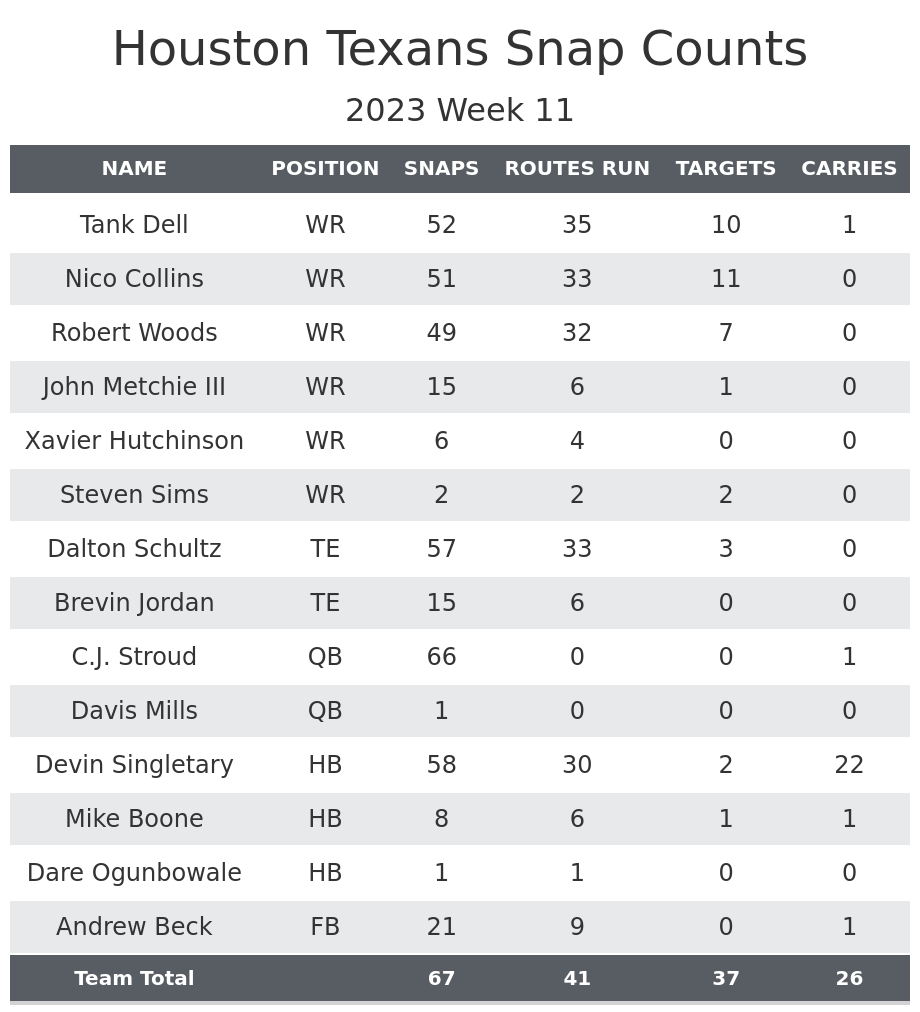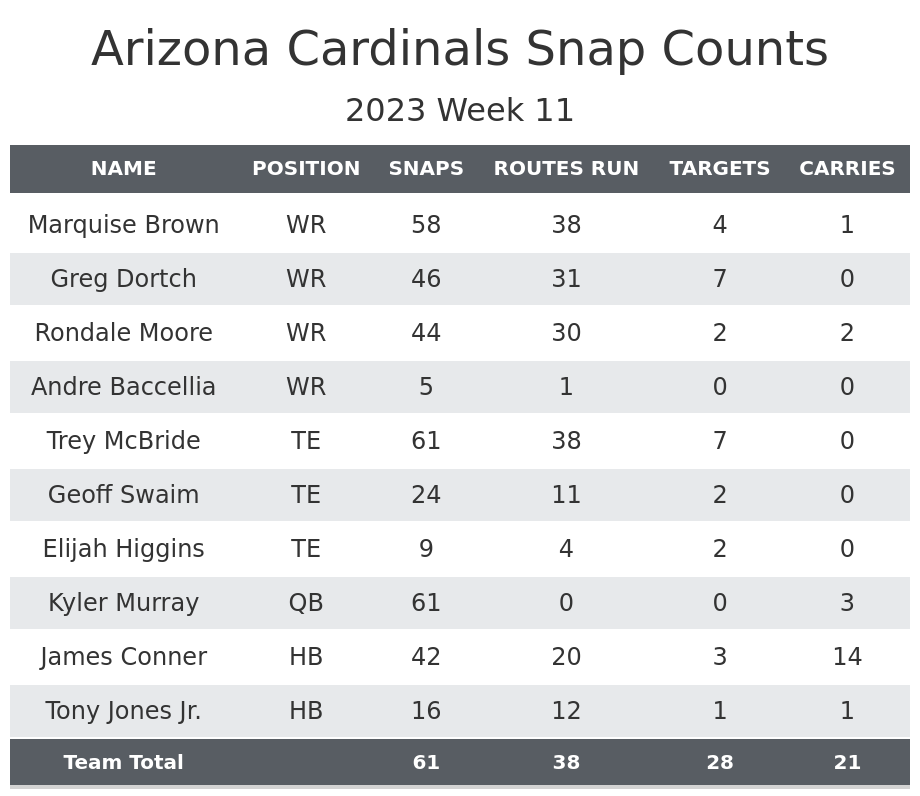 Cardinals adjust without two wide receivers: Both Michael Wilson and Zach Pascal missed this week due to shoulder and hamstring injuries, respectively.
Wilson has been an outside wide receiver all season, with Pascal as his primary backup.

Arizona opted to give both

Rondale Moore

and

Greg Dortch

more playing time despite both players primarily being slot receivers.

The two split snaps across from

Marquise Brown

in 12 personnel. Typically, Moore was the slot receiver with Dortch outside in three receiver sets, but at times the roles were reversed.

Moore scored his first receiving touchdown of the season on a deep pass out of 12 personnel. The 48 yards he gained on that play were also enough to mark a season-high in receiving yards. That was his only catch of the game.

Dortch caught six passes for 76 yards. He played just as many offensive snaps in this game as the first 10 weeks combined, and he put together better reception and receiving yard numbers than Moore's had in any game this season. If anything, we could see more of Dortch going forward after his many good plays late in this game.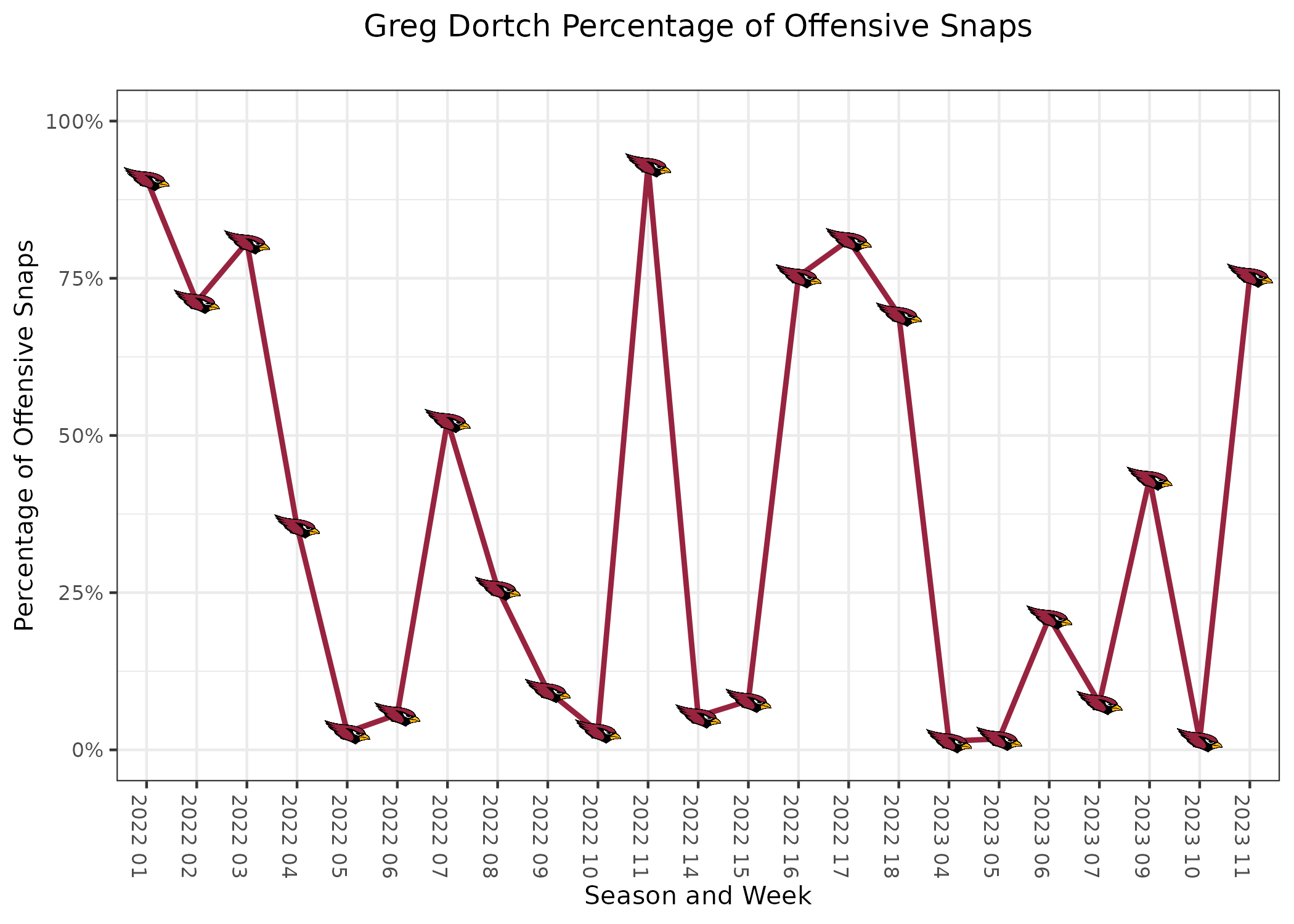 Tony Jones holds Cardinals' receiving back job for one more week: Jones was the only back outside of James Conner to see playing time for Arizona for potentially the last time.
This was the third straight game where Jones played nearly every third-down snap as a practice squad elevation.

If the Cardinals want to do that again, they would need to sign him to the active roster which seems unlikely considering they have four running backs on the active roster.

Emari Demercado

missed his third-straight game due to a toe injury while Keaontay Ingram was active but didn't play on offense.

The Cardinals also added

Michael Carter

off waivers from the

New York Jets

earlier this week. Carter had been the Jets' third-down back all season. Either he or Demercardo will take the third-down snaps going forward.

Conner was the primary third-down back both last season and the start of this season, but his days as an every-down back appear to be over.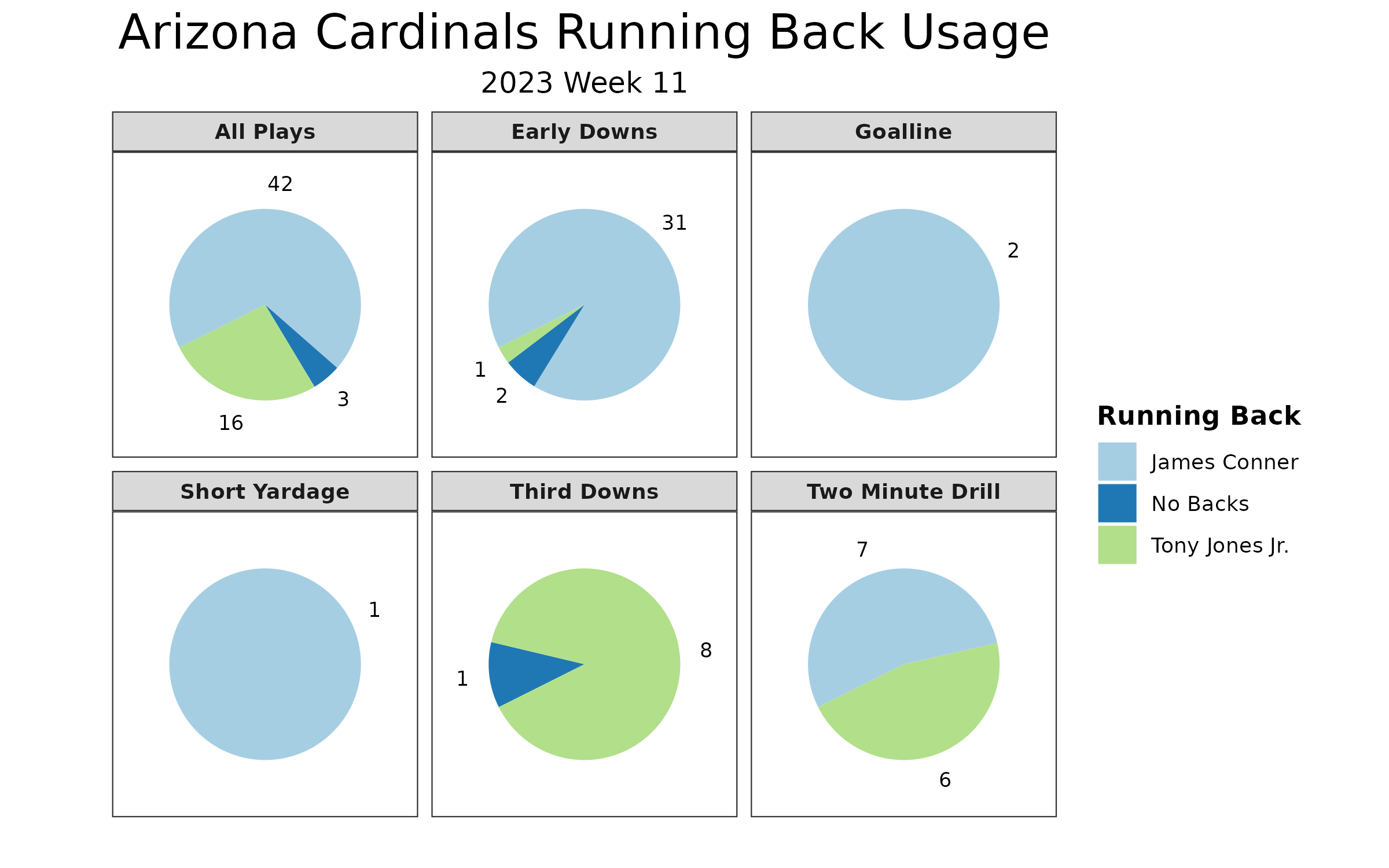 Nico Collins returns to the Texans: Collins missed last week due to a calf injury, but he returned to his usual role this week.
While Collins returned, Houston was without

Noah Brown

due to a knee injury. The Texans haven't had all four top wide receivers healthy since Week 1.

Brown missed Weeks 2-5,

Tank Dell

missed Week 6, the Texans had their bye week in Week 7,

Robert Woods

missed Week s8 and 9, Collins missed Week 10, and Brown missed this game.

This allowed Collins, Dell and Woods all to see their usual roles in the offense.

Collins caught seven passes for 65 yards. This tied his season-high in terms of receptions but was just average for him in terms of yards.

He can be safely put in fantasy starting lineups going forward, but it will be interesting to see how the four wide receivers co-exist once everyone is healthy at the same time.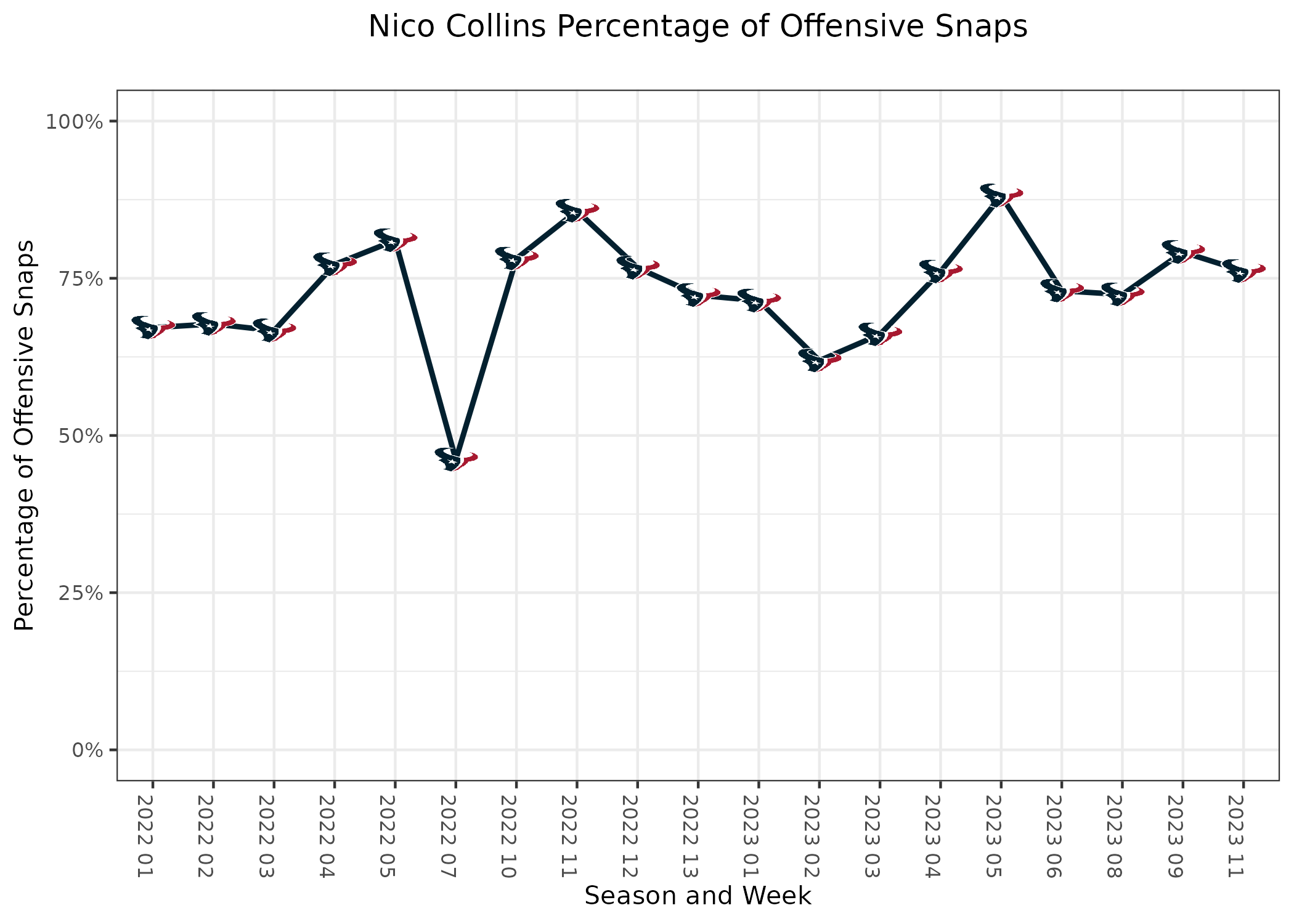 Miscellaneous Notes
---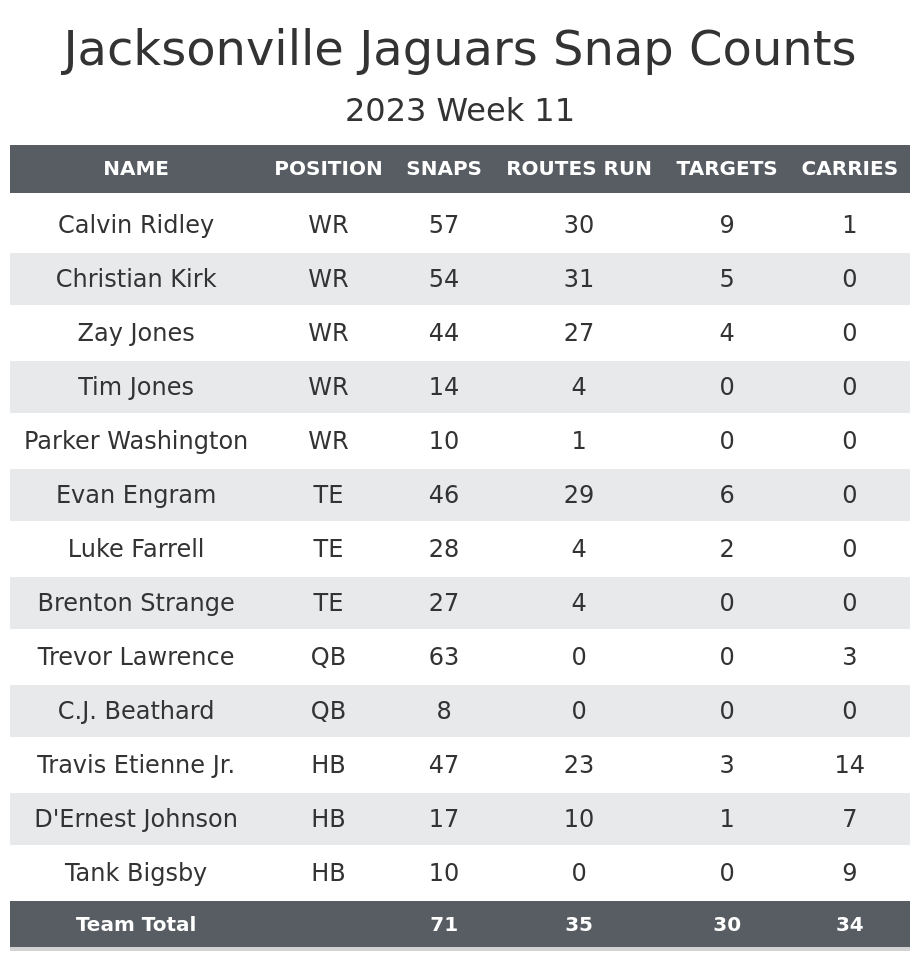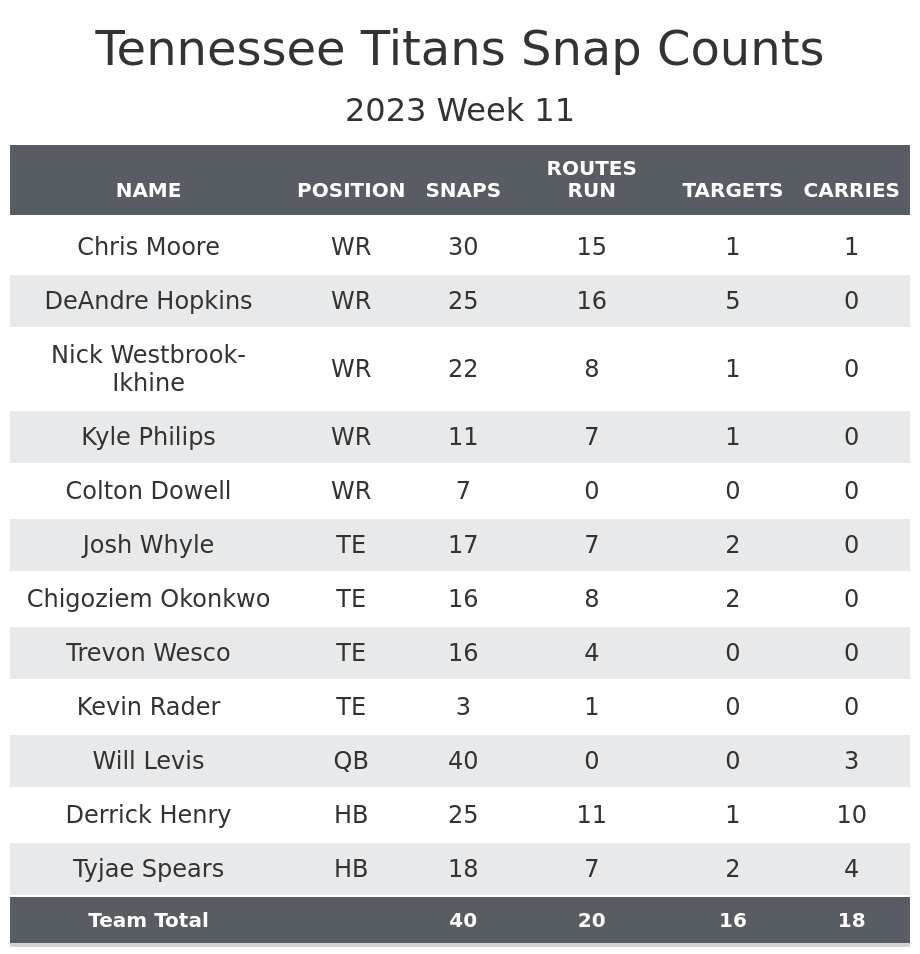 Jacksonville limites Travis Etienne Jr.: Etienne played significantly in the first half but barely saw the field in the second.
He played in 32 of a possible 36 snaps in the first half which was typical of him.

Etienne ran 10 times for 38 yards in that time with two receptions for two yards.

The Jaguars started the third quarter with

D'Ernest Johnson

as their leadback, playing nine of the 15 snaps in the quarter.

Etienne took six of a possible 15 third-quarter snaps and nine of a possible 20 in the fourth. Jacksonville used

Tank Bigsby

significantly in the fourth quarter with other backups.

This was the second straight game where the Jaguars played in a game that was out of reach part way into the second half and the second straight where Etienne didn't see nearly as much work as the first half of the season.

He remains a must-start for fantasy football purposes, but expectations should be tempered for games where the Jaguars blow their opponent our or are getting blown out.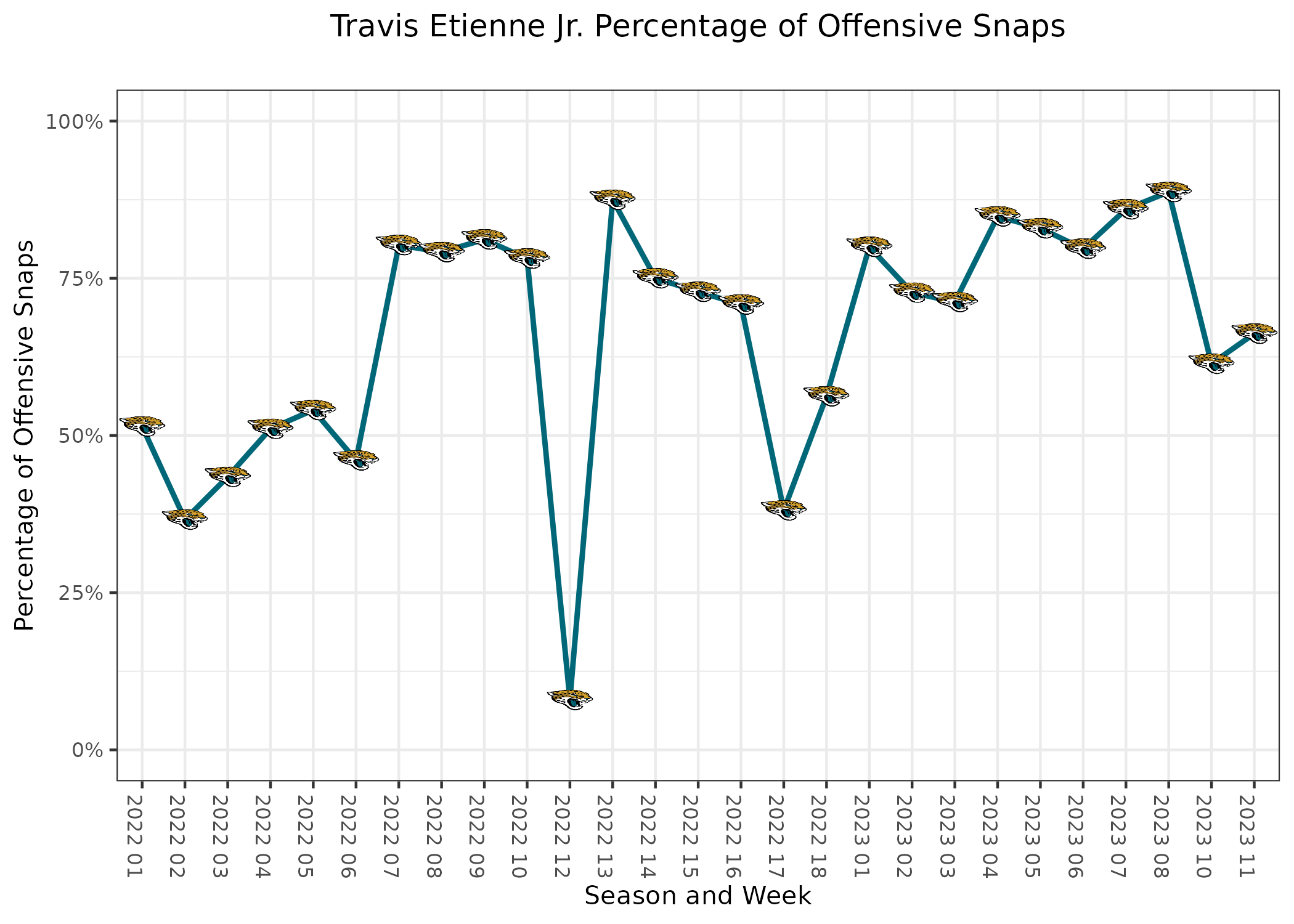 Zay Jones returned to Jacksonville: Jones missed six of the last seven games due to a knee injury.
Jones' playing time wasn't restricted by his injury. He joined

Calvin Ridley

and

Christian Kirk

in 11 personnel, as expected, playing 37 of a possible 40 snaps.

There was significant conversation in the preseason and early in the season about how snaps would be distributed between Kirk and Jones in 12 personnel. Jones was playing most of those snaps in the preseason, but Kirk played well with those snaps while Jones was out.

Jones only took five of a possible 14 snaps in 12 personnel over the first three quarters. Ridley and Kirk took 10 each, and

Tim Jones

the other three. The Jaguars ran 12 personnel a lot late in the game as well with backups.

Jones caught all four of his targets for 20 yards.

Kirk playing so many 12 personnel snaps before garbage time was generally good news. He caught three passes for 48 yards. Both wide receivers are capable of better games, but it was

Calvin Ridley

making most of the big plays in this game.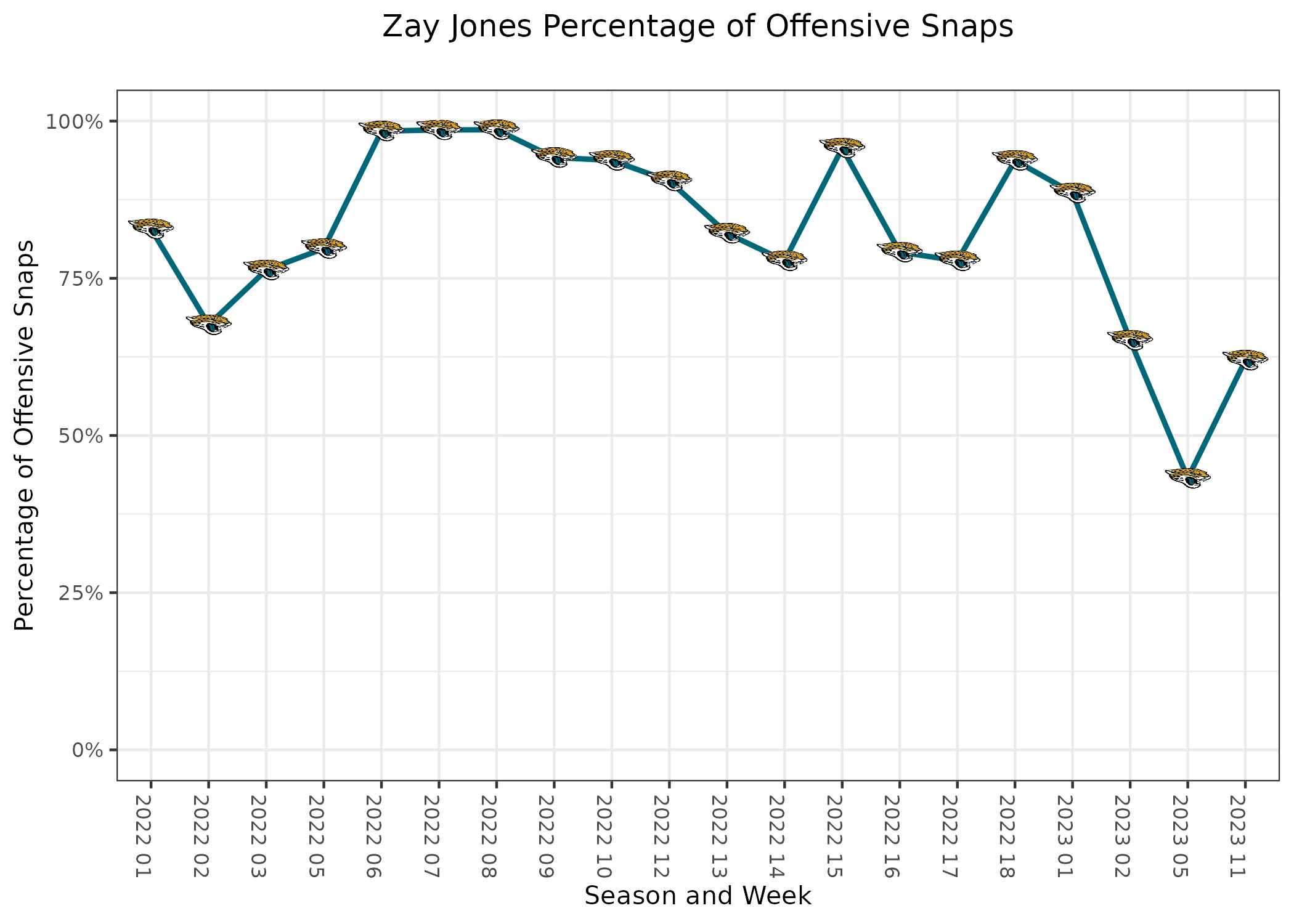 Tennessee continues tight end rotation: Titans' fifth-round rookie Josh Whyle ended up leading their tight end room in offensive snaps.
Whyle started playing more snaps in place of

Chigoziem Okonkwo

last week and that trend became even worse for Okonkwo in this game.

Okonkwo was almost completely phased out of 12 personnel. Whyle played all seven 12 personnel snaps,

Trevon Wesco

took six-of-seven snaps, and Okonkwo took one snap in Wesco's place.

Okonkwo remains the primary tight end in 11 personnel, which is why he led the tight end room in routes run, but he only took 11 snaps out of 11 personnel compared to eight by Whyle.

With the Titans falling further out of playoff position, it wouldn't be surprising if we continue to see heavy rotations at all positions to get young players like Whyle more involved.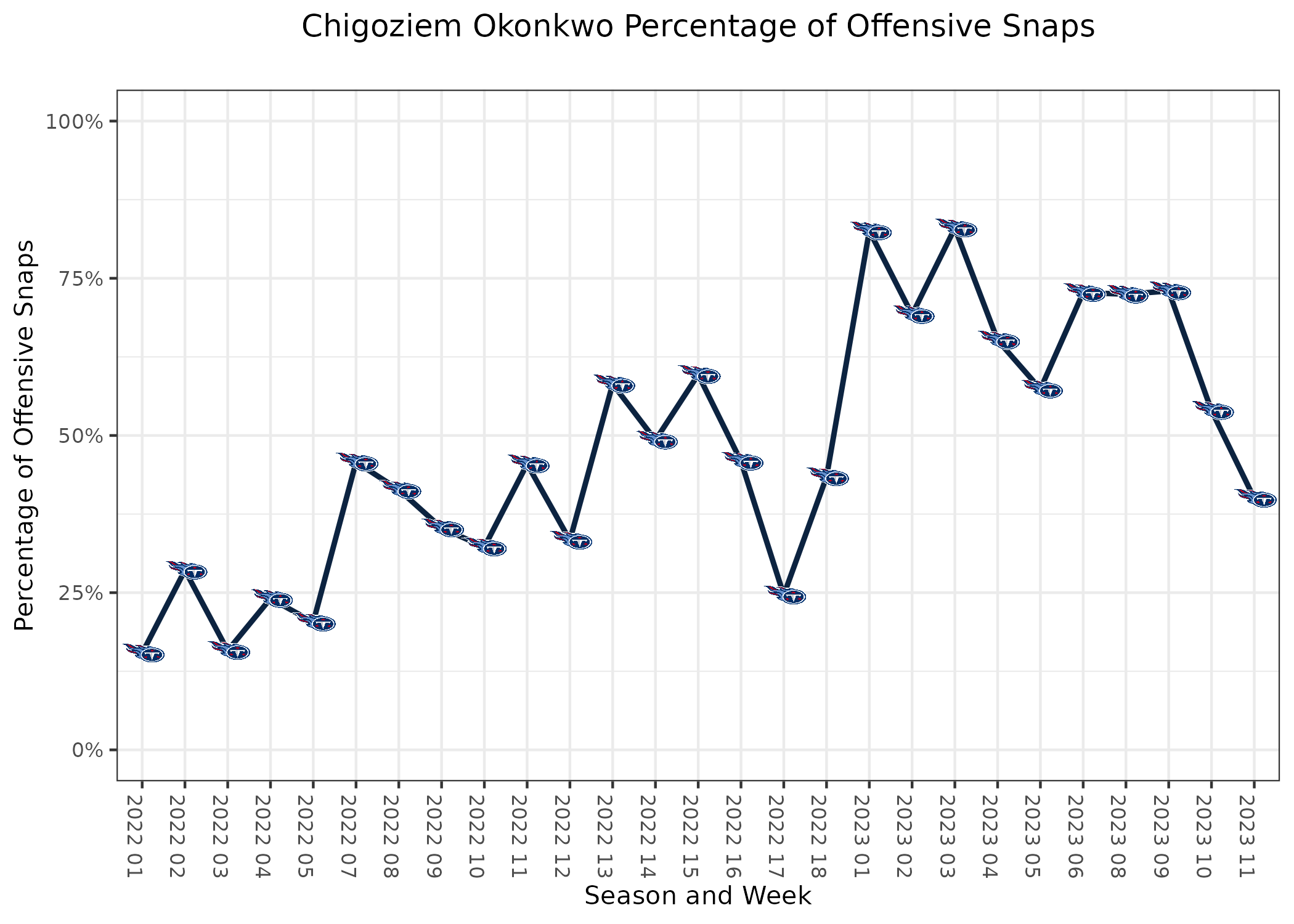 Miscellaneous Notes
Jamal Agnew

has spent most of the season as the Jaguars' third wide receiver with

Zay Jones

out, but he landed on injured reserve this past week due to shoulder and rib injuries. He will miss the next four games.

Sixth-round rookie wide receiver

Parker Washington

returned off injured reserve to be the Jaguars' fifth receiver. He had played one offensive snap and one punt return in Week 4 during his only previous NFL game. He played 10 offensive snaps as the Jaguars' fifth wide receiver with eight of them coming in the last five minutes of the game.

Treylon Burks

missed his fifth game of the last seven with a concussion. It has typically been a committee replacing Burks, but these last two weeks we've seen more of

Chris Moore

.
---
Coming soon!
---
Saquon Barkley

: 14 carries, 83 yards; 4 receptions, 57 receiving yards, 2 receiving touchdowns

Darius Slay

ton

: 4 receptions, 82 yards, 1 touchdown
Coming soon!
---
Coming soon!
---
Coming soon!
---
Coming soon!
---
Coming soon!
---
Table Notes
Snaps include plays called back due to penalties, including offensive holding or defensive pass interference. The other three stats have these plays removed.

Targets may differ from official NFL sources. The most likely discrepancy would be from a clear thrown-away pass, where the NFL may give the target to the nearest receiver, while this data will not.

Carries are only on designed plays. Quarterback scrambles won't count for the total number of carries in the game.