Rare Brazilian Cabochon Paraiba Tourmaline surrounded by 114 diamonds, set in 18 kt yellow gold and platinum.
For over 40 years, Silverhorn has been renowned for its handcrafted jewelry, using rare gemstones and exemplary craftsmanship. Known for award-winning creativity, each piece is artfully crafted with precision. At their Design Studio in Montecito, clients can observe artisans at work and explore a gallery of fine jewelry, choosing from finished pieces or commissioning bespoke designs.
Silverhorn Design Studio
1235 Coast Village Road
Montecito, CA 93108
805.969.0442
www.silverhorn.com
---
Stressless® Sunrise Recliner in Paloma Maroon Leather, Made in Norway
Mattress Mike, a family-owned business for 29 years, now occupies a vast 70,000-square-foot Furniture Gallery in Santa Barbara. Featuring top brands like Stressless, American Leather, Aireloom, and an exclusive La-Z-Boy gallery, it offers a diverse range of quality home furnishings. Partnering with Moving Miss Daisy's consignment store, it's the Central Coast's largest destination for fine furniture.
Mattress Mike
3845 State Street
Santa Barbara, CA 93105
www.matressmikesb.com
---
Quilted Jacket with Slightly Cropped Silhouette and Faux Fur Collar
Whistle Club offers an elegant selection of women's apparel, footwear, and jewelry, featuring pieces from top independent designers and industry favorites. With a commitment to quality, integrity, and design, this boutique provides a premium shopping experience in Montecito, showcasing thoughtfully curated collections that speak to discerning tastes.
Whistle Club
1235 Coast Village Rd, Ste C
Montecito, CA 93108
www.whistleclub.com
---
The Ginew Waxed Rider Coat with Pendleton Blanket Lining
Tendrel is a contemporary men's clothing store located in the Funk Zone, emphasizing selvedge denim and classic styles. This boutique offers durable, high-quality apparel, catering to those who appreciate longevity in fashion. Explore their collection in-person or online.
Tendrel
111 Santa Barbara St. Unit B
Santa Barbara, CA 93101
www.shoptendrel.com
---
"Shoreline Beach Light" – Oil on Canvas, 24×18
Santa Barbara Fine Art presents the allure of Santa Barbara as seen through the eyes of local artists. This gallery, located next to The Arlington Theater, offers a diverse collection of artworks that capture the region's stunning beauty and charm.
Santa Barbara Fine Art
1321 State St (next to The Arlington Theater)
Santa Barbara
www.santabarbarafineart.com
---
Catherine Gee Cashmere Crewneck sweater in Stella Print
Catherine Gee's boutique, nestled in La Arcada, Santa Barbara, showcases her Fall '23 collection featuring printed cashmere with vibrant colors. Recognized for her silk creations, her store now offers an expanded range of luxurious fabrics and accessories, embodying a blend of timelessness and sensuality in fashion.
Catherine Gee Boutique
1114 State Street, Suite 24 (in La Arcada by the Turtle Fountain)
Santa Barbara, CA 93101
805-324-4699
catherinegee.com
---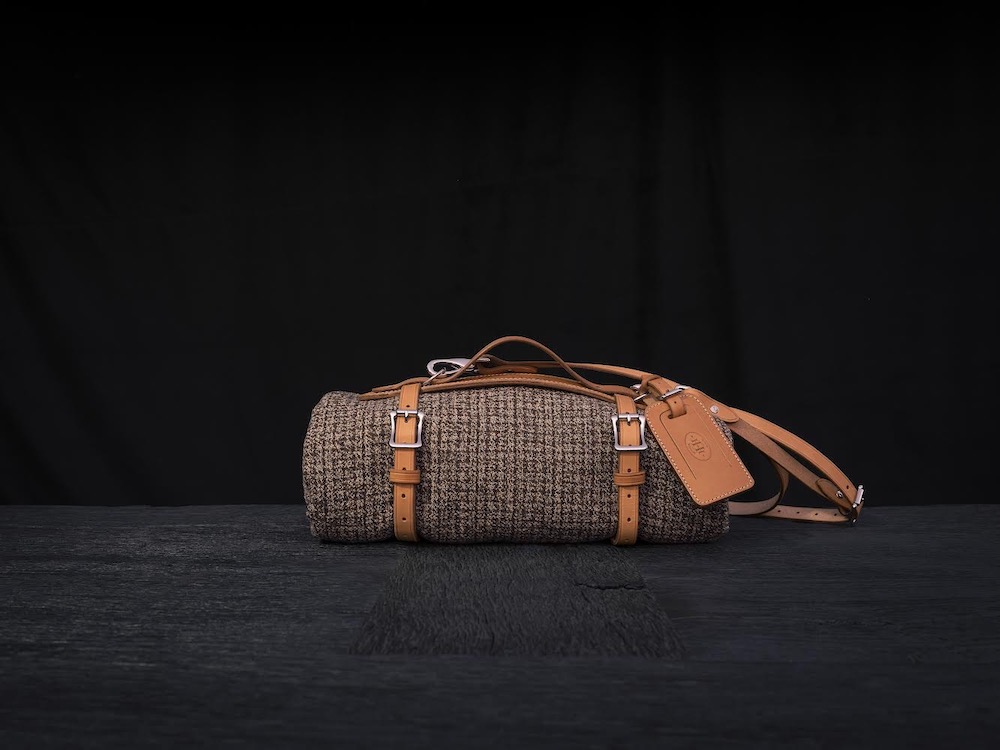 Sturdy, traditional tan leather carrier with adjustable shoulder strap. Fits most blankets.
Homer
1129 Coast Village Road
Montecito
---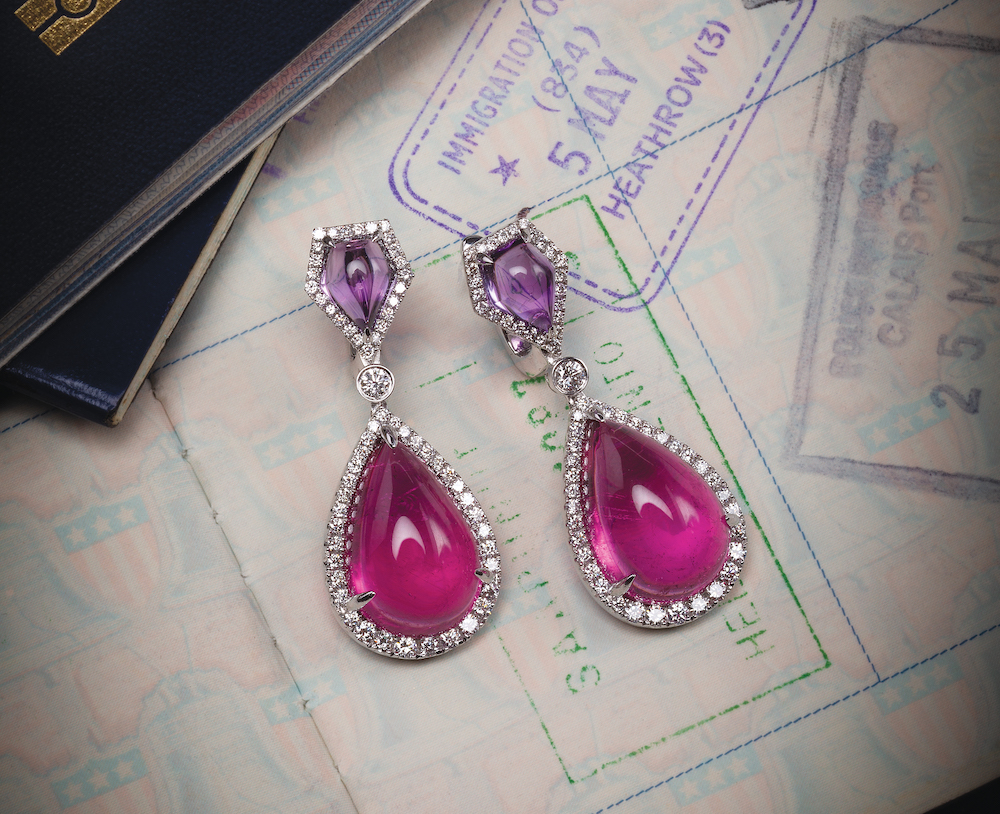 18k white gold diamond, rubellite and amethyst earrings
Established in 1965, Bryant & Sons has been a purveyor of fine jewelry and timepieces, featuring renowned designers like Cartier and Mikimoto. Located in its original El Paseo location, the store boasts graduate gemologists who aid in custom designs, appraisals, and repairs. Ideal for both first-time buyers and collectors, they offer timeless pieces of the highest quality, with expert guidance for selecting the perfect addition to any collection.
Bryant & Sons, Ltd.
812 State Street
Santa Barbara
805.966.9187
www.bryantandsons.com/
---
Bespoke 22k royal yellow gold, opal, and diamond cuff bracelet.
Daniel Gibbings Jewelry
1143 Coast Village Road
Santa Barbara, CA 93108
https://www.danielgibbings.com
---
Silk Bralette with Matching Short and Luxurious Cashmere Coat
LOU Los Olivos, a women's contemporary clothing store, caters to the city girl with a country heart. Opened in May 2023, this boutique in Los Olivos, California, specializes in elevated fashion and resort wear. It offers a unique shopping experience with its exclusive and carefully curated collection.
LOU Los Olivos
2938 San Marcos Ave
Los Olivos, CA
805-693-2913
loulosolivos.com
---
Casanova Hat – Wool, Handcrafted with Grosgrain Ribbon and Leather Patch
Grand Central Hat makers, based in Santa Barbara, blend tradition with craftsmanship in their handcrafted hats. Offering more than just hats, they specialize in sizing, cleaning, refurbishing, and custom creations. Their unique hat bars add elegance to any event, be it private, corporate, or weddings, ensuring a touch of personalized service.
Grand Central Fashion
334 Anacapa St #2
Santa Barbara, CA 93101
www.grand-central-fashion-llc.myshopify.com
---
Basket & Clogs, Field Trip, Scarf & Cookbook, Lewis & Clark Wine, Barbieri & Kempe Glass, Coast 2 Coast Sunglasses, Urban Optics Shirt, Ace Rivington
La Arcada Plaza, nestled in downtown Santa Barbara's Arts District, is a holiday wonderland. This picturesque destination features a mix of boutiques, flagship stores, and art galleries. Whether you're looking for custom-fit jeans, silk blouses, or unique gifts, La Arcada Plaza offers a diverse shopping experience. Enjoy the turtle fountain, sculptures, fine wines, and exceptional eateries, making it an ideal spot for holiday merriment.
La Arcada Plaza
1114 State Street, Santa Barbara
LaArcadaSantaBarbara.com
---
Izapa Rocking Chair – Handcrafted with Sustainably Sourced Wood
Santa Barbara Interiors combines an interior design firm with a retail shop, offering comprehensive services to enhance living spaces. They provide personalized design consultations, space planning, and assistance in selecting furniture to fit clients' styles and budgets. Their expertise extends to both residential and commercial spaces, ensuring a cohesive and aesthetically pleasing environment.
Santa Barbara Interiors
10 E Figueroa Street
Santa Barbara, CA 93101
santabarbarainteriors.com
---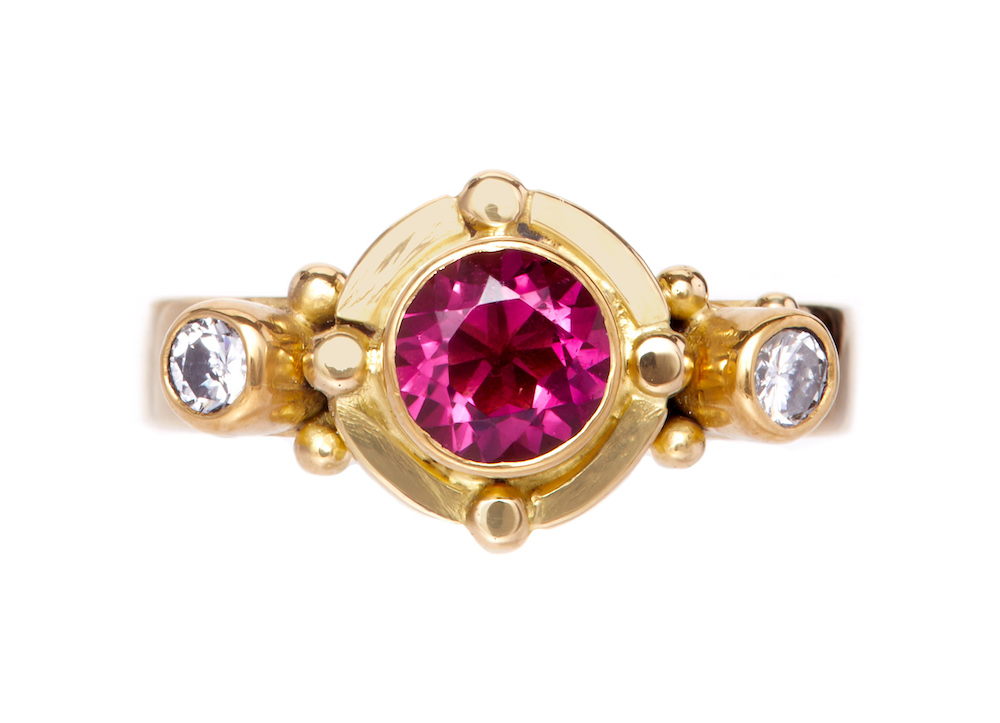 Dazzling rubellite tourmaline and diamond ring crafted in a vintage style 18k gold setting
The Yes Store, a Santa Barbara tradition since 1968, offers unique, hand-made gifts by local artisans. Originally a holiday shopping destination, it now provides a year-round experience for those seeking one-of-a-kind treasures. Visit for a diverse and artistic selection of items.
The Yes Store
La Arcada Plaza
1100 State Street (State/Figueroa)
Santa Barbara CA 93101
theYesStore.com
---
Cast Aluminum Organic Root Bench – Antique and Updated Classic, 44.25"L x 15.5"W x 28.5"H
Imagine Artful Things is more than just a store; it's a destination for unique finds and delightful surprises. It's not just a store, it's an experience akin to exploring a museum, where the unexpected awaits – from diamond earrings to rubber chickens.  It's a place where visitors, local and international, find that special something they didn't know they were looking for in The Village's charming atmosphere.
Imagine Artful Things
1470 East Valley Road
Montecito's Upper Village
805-695-0220
www.imagineartfulthings.com
---
Jens Quistgaard for Dansk, Denmark, 1960s
sbmidmod is a distinct boutique in Santa Barbara's Funk Zone, showcasing a rich collection of antique, vintage, and mid-century modern furniture, art, and décor. Perfectly situated amongst wineries, galleries, and unique shops, it's an ideal spot for design enthusiasts. Open Thu-Sat 12-5pm, Sun-Mon 11am-4pm, with private appointments available.
sbmidmod
223 Anacapa Street, #C Santa Barbara, CA 93101
www.sbmidmod.com/
@sbmidmod
---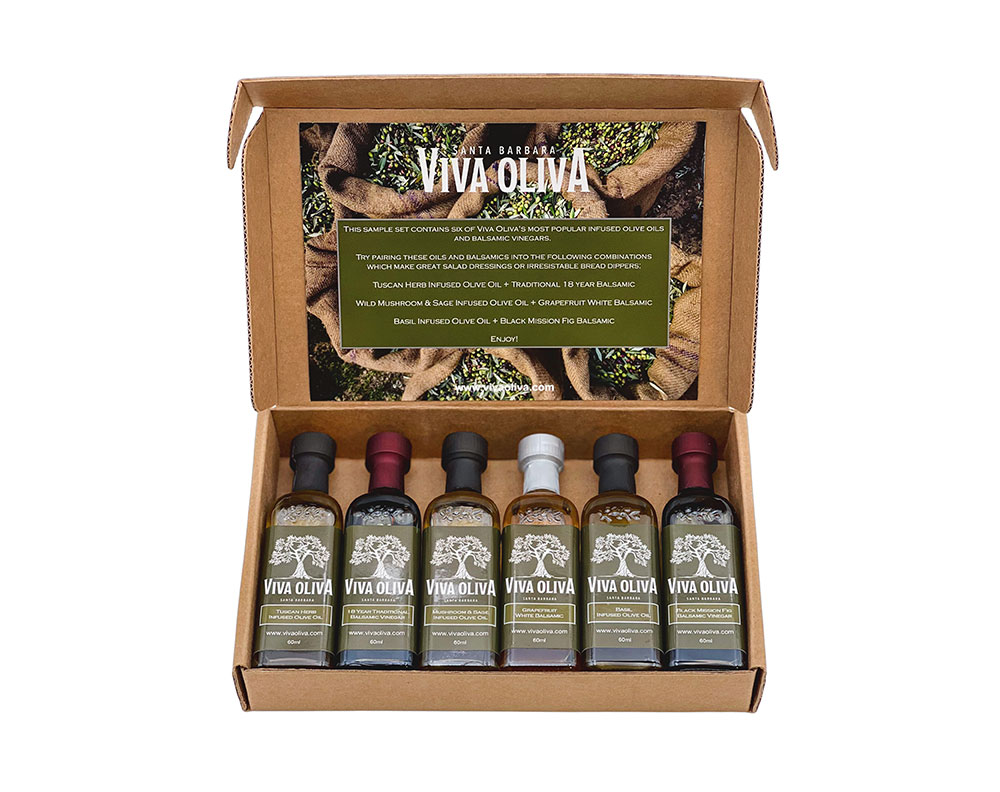 Gourmet oil and vinegar gift set – three 60ml flavored olive oils paired with three balsamics.
Since 2010, Viva Oliva has been a haven for the finest extra virgin olive oils, balsamic vinegars, and gourmet foods. Located in Santa Barbara, this store also offers unique olive wood and ceramic homeware. Ideal for holiday gifts, with online shopping and shipping within the contiguous United States available.
Viva Oliva
927 State Street
Santa Barbara, CA 93101
805.886.4342
www.vivaoliva.com
---
Pendleton Doublesoft Sherpa-Lined Shirt Jacket
Mountain Air Sports, a family-owned specialty outdoor, ski, and snowboard shop, has been a Santa Barbara staple for 45 years. Known for exceptional customer service and high-quality outdoor and lifestyle products, they offer everything from everyday clothing to adventure gear. The store embodies the Santa Barbara lifestyle.
Mountain Air Sports
14 State Street
(805) 962-0049
www.mountainairsports.com
---
Baccarat Crystal Bubbles Box Flute Gift Set – Includes Six Assorted Baccarat Flutes in Gift Box, $1,300
Located in La Arcada Courtyard, Coast 2 Coast Collection offers a range from luxury to casual tableware, featuring crystal, linens, porcelain, and silver. Home to luxury brands like Baccarat Crystal, Bernardaud, and Christofle Silver, as well as other renowned brands like Juliska and Vietri. It's a go-to destination for diverse gifts including frames, baby items, jewelry, and more. Visit their downtown boutique or shop online.
Coast 2 Coast Collection
La Arcada Courtyard, 1114 State St., Ste 10
Santa Barbara, CA
(805)845-7888
coast2coastcollection.com
---
19th Century Working Pendulum Train Station Clock in an Ebony Case
Miss Daisy's offers a blend of vintage and contemporary furnishings. With an ever-changing collection of lighting, rugs, furniture, and high-end fashion at the Louis John Boutique, it's a treasure trove for unique gifts and home decor. This ultra-sustainable store in Santa Barbara is a go-to for those seeking distinctive items.
Miss Daisy's Consignment & Auction House
3845 State Street (Old Sears Lower Level)
Santa Barbara, CA 93105
(805) 770-7715
consignmentsbymmd.com
---